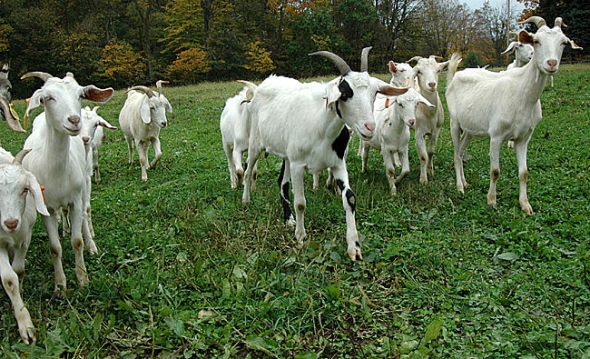 Owen Betts' herd of landscaping goats at their home at Whitehall Farm. Betts will pass on some goat knowledge at a workshop this Saturday. (Photo by Megan Bachman)
New Liberty Farms to host goat workshop
New Liberty Farms, best known locally for their  chickens, will host a series of food and farming workshops this winter, beginning with a session on goats this weekend.
At the free workshop, participants will learn about raising goats and cooking with goat meat and cheese. Free samples of goat curry, chili, cheese and jerky will be offered. The workshop will be this  Saturday, January 7, from 1 to 3 p.m. in the basement of the United Methodist Church at 202 South Winter Street in Yellow Springs.
Three local goat farmers, Caroline Mullin, Jill Dant and Owen Betts, will teach the basics of what is involved in raising goats, including care and feeding, meat and dairy breeds, and more. Participants are required to sign up for the workshop by calling Beth Bridgeman of New Liberty Farms at 937-768-7240.
Future workshops will cover pressure cookers, emergency rations, root cellars, winter gardens and bread and soup.
See the Jan. 12 issue of the News for more information.