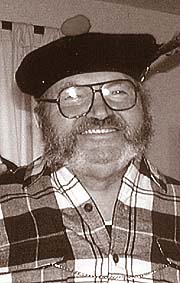 Hugh Taylor Birch Livingston, affectionately known by most in our community as "Huey," passed away peacefully at his home in Yellow Springs on Feb. 14, after a two-year battle with esophageal cancer. He was 71 years old.
Son of Hilda "Patience" Mayes and Max Edward Livingston, Hugh was born at Good Samaritan in Dayton on April 5, 1940. He spent his first four years with his family living in a log cabin on John Bryan Road. As a child, Hugh had poor respiratory health and his family was strongly encouraged to move closer to the warm, salty air of the gulf.
His family took up residence in Savannah, Georgia, at the Children's Home Bethesda for the first four years, and then the family relocated to Selma, Ala, with the United Methodist Children's Home. At 16 years old he attended Marion Academy, then at 17 he chose to transfer to a trade school in Dothan, Ala. After Hugh had completed his program in Dothan, he decided to join the United States Navy, to become a navy diver and was stationed on the USS Tatnell, in Charleston, S.C. Later he found himself on the USS Bushnell stationed in Key West, during the Cuban missile crisis.
After his enlistment term was up, Hugh decided to move back to his hometown in Yellow Springs in 1965, and was talked into joining the police force by the village manager at the time, Mr. Kahoe, and long time Police Chief Jim McKee.
Hugh spent most of his adult life serving his community. He was a peace officer, a dog-catcher and a sketch artist. He retired after 25 years of dedicated service, but couldn't stay away from his community for long, so he came back part time as a neighborhood assistance officer and crossing guard supervisor. It was one of his favorite duties, next to his bicycle rodeos, street fairs and 4th of July celebrations and parades.
Since his days in trade school, Hugh loved to work on anything mechanical, and spent large chunks of his free time rebuilding and creating projects from pictures, or images from memory — like the time he decided to build a scaled down version of a steam locomotive engine out of an old jeep chassis. He also recreated a Conestoga styled wagon from scratch, which he donated to the Antioch school. His latest project was to resurrect a 1917 fire truck, which unfortunately he was never able to complete.
Huey seemed like a larger-than-life individual, approachable, friendly, kind, patient and understanding. He served his community proudly for over 30 years.
Many of his friends have described him as a happy-go-lucky type, always willing to share a story or joke. He believed strongly in giving everyone the benefit of the doubt, treating everyone he encountered with respect and dignity. Hugh was always willing to lend a helping hand to those in need.
He is survived by his loving family, his wife Betty and his three children: Eric, Kenneth and Katherine. He is also survived his two sisters: Lynn Marsh and Lucia Livingston, and cousins, nephews, and nieces too numerous to list.
Hugh will probably be remembered by most as a jovial man with a southern draw, a kind smile, and friendly wave. He was dearly loved, and will be greatly missed, but his spirit of kindness and compassion will continue to linger on with his family, friends, and anyone whose life he touched.
In lieu of flowers, please feel free to make donations to the following organizations: The United Methodist Church Food Pantry, the Yellow Springs Police Department, or The American Cancer Society. A memorial service will be held on Saturday, April 7, at a location to be announced.