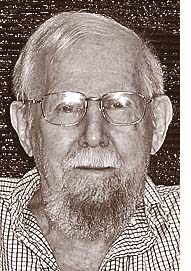 Raymond Olds died Feb. 10 at Friends Care Center. He was 86.
Ray was born on April 10, 1925, the second of four sons born to Raymond Fenton and Abbie Storrs Olds of Mansfield, Conn. Ray married Jean Carr in 1945 and they later moved to Yellow Springs where their daughter, Shawn Paige, was born.
Ray built or substantially remodeled many homes in Yellow Springs over a four-decade span. He was in many ways ahead of his time as an advocate of simple design, ecologically-friendly weatherization and small houses. Ray strongly advocated for low-cost housing. He was a jack of all trades and a master as well. His apprentices appreciated his tutelage and clients and friends kept him busy through word of mouth advertising.
Ray was a lifelong humanist and peace activist. He drove the Hiroshima maidens, atomic bomb survivors undergoing reconstructive surgery, during a 1956 tour of the United States. He was active in the local peacemakers group. He and his second wife, Patricia, led a bus of local protesters to the first large Washington, D.C. protest of the Iraq war. Ray was an early member of the Unitarian Universalist Fellowship of Yellow Springs and was instrumental in designing and constructing the renovation of their space in Goes.
Although divorced in 1988, Ray and Patricia remained dear friends. He built and maintained the harpsichord used by Pat's Early Music Group. They traveled to New England and London and cruised Alaska, Hawaii and, perhaps most memorably, the Norwegian fjords aboard the Hurtigruten, or mail boat.
Ray is survived by Shawn and her husband, Jay Abbey, of Springfield, and his grandchildren Sonja, Adrien and Brent. He is also survived by Patricia Olds of Yellow Springs and her daughters, Claire Winold of Yellow Springs and Erika Werdal of Blaine, Wash. He was preceded in death by brothers Anson and Stedman Olds and is survived by his brother and sister-in-law Storrs and Shirley Olds.
At his request, there will be no service.