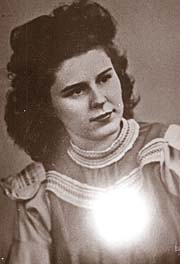 Mildred G. Hasser of Yellow Springs, known to friends and family as Midge or Middy, died April 13 after a brief illness. She was 87.
Mildred was born Feb. 24, 1925, the fifth of ten children of Daniel and Frances Smith of Somerset, Ohio.
She is survived by her loving husband of 64 years, Raymond A. Hasser, by son Raymond A. Hasser and family of Virginia and Gerald D. Hasser and family of California, by eight grandchildren and one great-grandchild. She is also survived by Sister Camilla Smith of Columbus, Mary Frances (Mrs. Paul) Pitstick of Fairborn, Agnes Hupp of Louisville, Ohio and Joseph Henry Smith of Glouster, Ohio.
During World War II, Mildred worked at the Curtiss-Wright aircraft factory in Columbus, followed by work at Wright-Patterson Air Force Base, Antioch College and Mercy Hospital of Springfield during the post war years. She was a member of St. Paul Catholic Church, where a memorial mass will be scheduled.