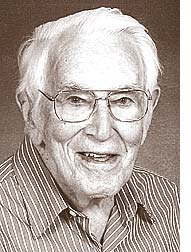 Wilbur W. Deaton died Saturday, Sept. 8, at Friends Care Center. He was 93.
Wilbur was born on Sept. 28, 1918 to the late Glenn and Birdie (Swaney) Deaton in Springfield. Wilbur served his country as a lieutenant during World War II in the United States Navy, and was privileged to attend an Honor Flight to Washington D.C. He owned and operated the Deaton Hardware Company in Yellow Springs for over 50 years. Wilbur was a member of the Yellow Springs Masonic Lodge and the Fraternal Order of the Eagles, and was a charter member of the Yellow Springs Lions Club, Yellow Springs United Methodist Church, as well as being a prominent member of the Young's Coffee Club. He was surrounded by his hospice family of Hospice of Dayton.
In addition to his parents, Wilbur was preceded in death by his wife, Margie Ann (Tavenner) Deaton. He is survived by his two children, Randy (Denise) Deaton of South Carolina and Melanie Ann Kitchen of Springfield; by his grandchildren, Andrew, Renee and Ryan Deaton of South Carolina, Samantha Deaton of California and Jennifer Kitchen of Springfield; and great-grandchildren Connor and Ashli, as well as his extended loving family at Friends Care Community.
Funeral services will be held on Tuesday, Sept. 11, at 2 p.m. at Jackson Lytle and Lewis in Yellow Springs, with Reverend Sherri Blackwell officiating. Burial will follow at Glen Forest Cemetery. Friends may call one hour prior to service.
Memorial contributions may be made to Ohio Lion's Eye Research Foundation or Yellow Springs United Methodist Church in Wilbur's honor. Condolences may be forwarded to the family by visiting http://www.jacksonlytle.com.