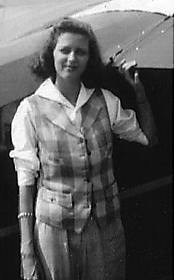 Mary Carol "Mac" Ferguson passed away peacefully in her sleep on April 25 in Gibsonia, Pa., just four days shy of her 89th birthday.
She was born Mary Carol McCaleb in Covington, Va., the second of two children. Having an understated precociousness and perfect pitch, she learned to play the piano by listening to her older brother Tom's lessons. By her early teenage years, she was playing for various Kiwanis and Rotarian club gatherings and had become the organist at her local church. She graduated from high school at 16, and although offered a music scholarship to college, she chose instead to pursue other interests and attended Lynchburg College.
War and marriage to Emory T. Judy interrupted her college years, but as the new bride of an Air Corps pilot, Mac decided to study for and earned a private pilot license. Post-WWII, they moved to Yellow Springs where Emory attended Antioch on the GI Bill, and together they had four children. They divorced in 1963, and soon thereafter, Mac married Arthur C. Ferguson, whom she would describe as the love of her life.
Mac was always grateful for the environment of Yellow Springs, and while not particularly outgoing, she impressed all who met her with her quick, lively, sardonic wit and her far-reaching intellect. In those early years, she held a variety of jobs, ultimately joining the faculty of Antioch College, where she was a student advisor in the Education Abroad Department until the mid-'70s. Concurrently, for many years Mac was the organist and intermittent choir director for the United Methodist Church, continuing her membership there until her death.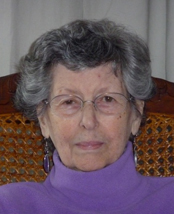 Throughout her life, Mac's love of learning led her to study such varied subjects as yoga, tai chi, astrology, Native American history and traditions and the Spanish language. She became a Usui Reiki practitioner and also earned a Master of Humanities degree in philosophy from the University of Dayton. In retirement, both she and Art enjoyed attended many Elderhostels, particularly in the Southwest (motoring there in a yellow VW camper bus, he at the wheel, she reading aloud to him on the journey), as well as participating in World Future Society conventions. They also edited manuscripts for a few local authors.
Mac was preceded in death by her husband Art Ferguson, son Todd Judy and step-daughter Michelle Atkins. She is survived by her daughters Carol Kean and Pat Fici, son Timblin Judy, step-daughter Alix Davidson and step-son Dirk Ferguson, grandchildren and great grandchildren and her beloved cat, Jake.
Per Mac's request, there will be no memorial service. But she says, "Hey."