Ohio Brass & Electric to play Home, Inc. benefit
Ohio Brass & Electric, the new local 11-piece horn band with a flair for funk and a definitively big sound will play at the Home, Inc. benefit "Springs Soiree" on Friday, May 3, at the First Presbyterian Church.
The benefit, which starts at 7 p.m., is also a celebration of Home, Inc.'s 15 years of building affordable housing in Yellow Springs.
At the soiree, Ohio Brass & Electric will play danceable rock 'n' roll tunes and Mark Babb and Ben Cooper will play old-time Appalachian music. Tickets are $30 for one person and $50 for two, with each ticket holder entitled to two wine pours and appetizers from Meadowlark Restaurant in Centerville and Tom's Market.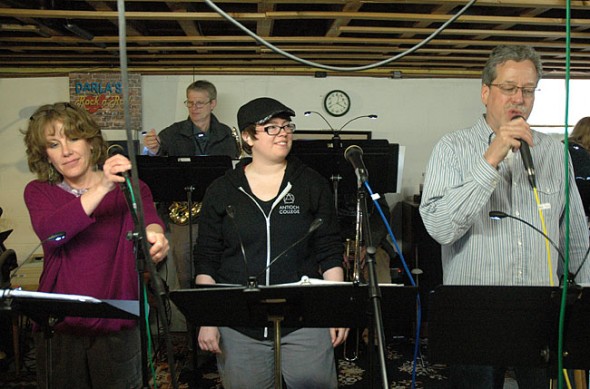 Ohio Brass & Electric is "a tsunami of funk," in the words of guitarist and vocalist Skip Leeds. Its horn section, drawn largely from the Yellow Springs Community Band, features Bob Fannin on trumpet, Diana Ditty on baritone sax, Doug Roberts on trombone and Lynn Peterson on alto sax. Classically-trained musicians make up a good part of the rest of the band; Antioch College voice teacher Cindy Lincoln sings backup vocals, choral soprano Emily Seibel is the lead female vocalist and professional pianist Barbara Leeds plays keyboard. Veteran drummer Mek Logan and novice vocalist Brady Karns round out the group. The band sticks to covers — the Beatles Chicago, Sharon Jones and the Dap Kings, Tower of Power, Joe Cocker, Elton John, Earth, Wind & Fire and more.
To purchase tickets to the soiree, call Susan Bothwell at 937-767-1206 or Tom Clevenger at 937-767-2790.
For more on Ohio Brass & Electric visit its Facebook page.
Read the May 2 issue of the News for the full story.