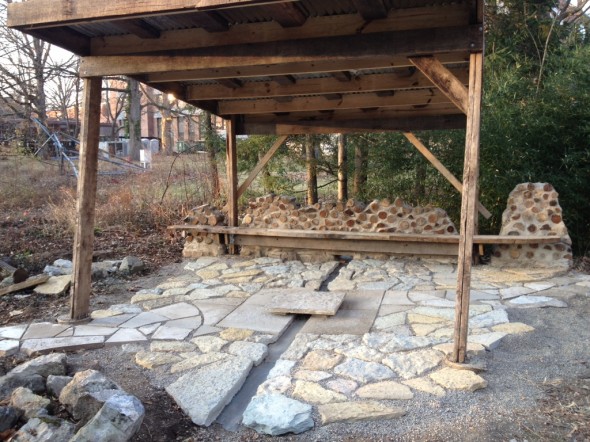 Tea pavilion construction continues
Construction of a tea pavilion began on the Antioch College campus last year. The project will continue on Saturday and Sunday, May 4 and 5, as volunteers work to complete a cordwood and mortar wall and realize the rain harvesting system.
The process began last April with a design charrette, in which students developed an innovative design for the structure developed around the ritual process of building; the event of harvesting, steeping and drinking tea inspired by many cultures and the importance of water on the farm. Students and community members in Yellow Springs, along with the grounds crew at Antioch College, took down and salvaged material from an existing structure built in the 1970s, poured footings for the new structure, pulled up the concrete from the non-functioning pond, placed a stone "foot print" using stones harvested by hand from a nearby limestone quarry, constructed and roofed the renewed Tea Shelter structure and partially constructed a cordwood and mortar wall.
Volunteers are invited to join in from 9 a.m.–5 p.m. each day, with a one-hour lunch break. Those interested should RSVP to Sara Black at sblack@antiochcollege.org.