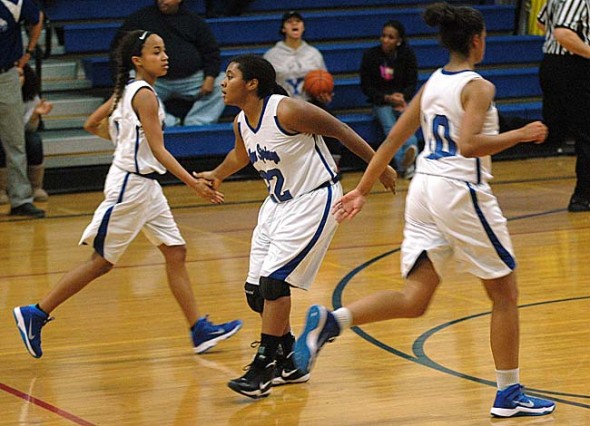 December 19, 2013 Bulldog sports round-up
Girls basketball hits losing streak
After a 3–0 start, the girls varsity basketball team has gone on a four-game slide, with losses in recent weeks to Ponitz, Troy Christian, and Stebbins. And in a hard-fought Metro Buckeye Conference matchup against Miami Valley at home on Monday night, the Lady Bulldogs lost 41–36.
YSHS took a lead into the fourth quarter against the Miami Valley, but couldn't pull out the victory. Elizabeth Smith led scoring with 15 points, including many clutch free throws, while the team received solid contributions from Shanice Wright (10 points) and Brianna Ayers (9 points). Molly Hendrickson played aggressively all game and Julie Roberts contributed well coming off the bench, according to first-year Coach Jack Hatert. The Lady Bulldogs moved to 3–4 (1–2 in the MBC).
Boys basketball improves
The young varsity boys team had a tough two-game stretch week last week, losing to a senior-laden Troy Christian team last Tuesday and a very athletic Jefferson team Saturday night. Their record is now 0–4 (0–1 in the MBC).
Nevertheless, the team showed serious improvement from Tuesday to Saturday, according to first-year Coach Steve Grasso. The Bulldogs played tough against Jefferson and led into the second quarter, but were outscored in the second half of play.
Sophomore Isaiah Taylor is leading the way this season, averaging 14 points and 10 rebounds per game while freshman Joe Plumer had a breakout game Saturday with a 15 point, 8 rebound game against Jefferson.
8th-grade boys lose to Rams
The McKinney eighth-grade boys basketball team lost 53–36 at the Miami Valley Rams on Monday. Scoring for the Bulldogs were Christian Elam, Nasseem Chappelle, Jaylen Lewis, Tony Marinelli, and Zach Brintlinger-Conn. Numerous turnovers, lack of rebounding, and poor team ball movement led to the loss, according to Coach Branson Pyles. The team was also without their dominant center, he added.
7th-grade boys score 36 in win
In their best collective offensive effort of the young season, the seventh-grade boys basketball team poured in 36 points in a victory on Monday night versus Miami Valley. The final score was 36–22. Eight players contributed at least one basket and everyone helped out on the offensive boards as the team secured 19 offensive rebounds. Kevin Wagner led the defensive charge with three steals.