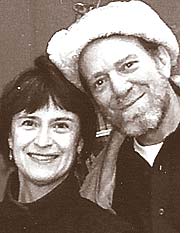 Doug Hinkley, one of the village's most interesting thinkers and talented writers, died June 11 at his Limestone Street home after a two-year battle with lung cancer, with his wife, Jill Becker, by his side. He was 66.
One of five children of Jim and Dorothy Hinkley, Doug grew up in a ranch house in the newly created Dayton suburb of Kettering. Years later, in his first novel, he described growing up in Kettering in the '60s as an occasionally provincial but still magical and ecstatic experience, with gangs of kids roaming the streets seeking freedom, love and adventure, and occasionally finding all three.
Theater was Doug's first professional love and he studied it at Wilmington College on a full scholarship. He married young, at age 19, and soon after had a daughter, Christine. After graduating from college, Doug was offered a job teaching theater at the private Quaker George School and he later recalled directing school plays while holding a toddler in his arms. After his marriage dissolved, Doug moved to New York City and a job selling shoes; then in the mid-1970s back to the Dayton area and Yellow Springs, where he was a gas station attendant, jobs that later turned up in his fiction.
In Yellow Springs, Doug also reported for the Yellow Springs News under editor Don Wallis, and during this time, he and his then-wife, Anne Shafmaster, took turns caring for their son, Gabe, and Anne's daughter, Nicole, while each pursued their creative writing. In the late 1980s, Doug was elected to Village Council, although he stepped down from Council several years later when he, Amy Harper and Karen Gardner bought the News from Wallis. Doug served as business manager for the paper, although he occasionally wrote opinion pieces that offered his (then) radical vision for education, which was similar to the schools' new Project Based Learning approach. After he left the News, Doug harnessed his ability to fix almost anything and freelanced as a village handyman; he had more work than he knew what to do with.
Doug was always thinking and almost always creating, at least until his last years. Along with Louise Smith, Ken Simon and Jill Becker, he created an at-home backyard performance in 2009, inspired by the struggle to revive Antioch College, drone drills, playing solitaire and local politics. A man of many talents, he wrote fiction and poetry of great depth and an empathy for other humans surprising for someone who so loved solitude. In the '90s, Doug found joy in returning to acting, and he appeared in many Antioch College and other local productions. He especially enjoyed directing "Conference of the Birds."
Doug loved dancing, chocolate, acting, his home, language, golf (though he finally quit the game out of frustration) and the village of Yellow Springs. He disliked noise, crowds, taking vacations or for any reason having to leave town.
Doug is survived by his wife Jill; his children Gabe Hinkley and Christine Shmuel and step-son Raphael Brukner. He was preceded in death by his brother David and is survived by siblings Ann (Jerry) Schmidt, Joan (Ed) Hounshell and Jeff (Char) Hinkley, all of the Dayton area. An open house for Doug will be held on Sunday, June 22, 1–4 p.m. at 430 W. Limestone St.