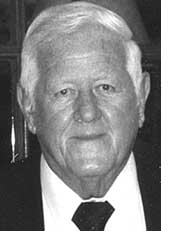 Robert J. Phillips, of Yellow Springs, passed away at Springfield Regional Medical Center on Sept. 3. He was 90.
Robert was born on Oct. 31, 1923, to the late John and Mary (Linson) Phillips in Springfield. He was a graduate of Bryan High School, in Yellow Springs, in 1941. Soon after graduation, he began working as a mechanic for Howard Kahoe and later for KBS (Yellow Springs Lumber Co.). He worked at Deaton Hardware for 13 years. He retired from Yellow Springs Instrument Co. He was a devoted member of St. Pauls Catholic Church since childhood, where he served in many capacities.
Robert is survived by his wife, Virginia (Hildebrant), married 69 years. He is survived by a brother, Richard Phillips; nephews James (Donna) Gray, John (Sue) Gray, Tom (Evelyn) Gray, Mike Gray, Joe Beatty and James Beatty; and nieces Patricia Taylor, Mary (Craig) Conrad, Teresa (Mike Burchett) Phillips, Pam (Warren) Hensley and Roberta (James) Semler. He loved his nephews and nieces as if they were his own.
Along with his parents, Robert was preceded in death by his sisters, Norma (Robert) Beatty, Maxine (William) Gray, Marjorie (William) Barbee; brother William Gordon and nephew Jack Beatty. Robert will be truly missed by his family and many friends. A Mass of Christian Burial was held Saturday, Sept. 6, at St. Paul Catholic Church in Yellow Springs. Condolences may be forwarded to the family by visiting http://www.jacksonlytle.com.