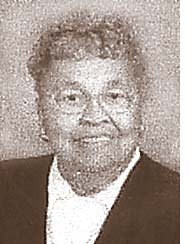 Madeline L. (Byrd) Harshaw was called home to be with the Lord Monday afternoon, Oct. 27, at Friends Care Center. Madeline was born in Springfield, Ohio, on Nov. 26, 1926, to the late William and Virda (Ramsey) Byrd, and was preceded in death by her sister Geraldine G. Johnson. Madeline was a 1943 graduate of Springfield High School. She worked at Wright-Patterson Air Force base for 20 years and Antioch College for eight years. She then retired from Central State University after 30 years.
She was a dedicated and faithful member of Central AME Church for over 30 years. She served as a member of the Lay Organization, on the steward board and Thornton-Wing Missionary Society.
She was the first wife of Louis Gonzales Lopez, married from 1944–1947. They had two children together, Louis Harshaw and Tanya Lopez, who passed away as a baby in 1947. Later she was married to Leroy Harshaw, from 1949 to 1979, and had one child, Lia L. (Harshaw) Ashford
She leaves to cherish her loving memory her daughter in-law Barbara A. Harshaw and her son in-law Joseph W. Ashford; five grandchildren, Paige K. (Harshaw) Benson from Georgia, Reginald O. Harshaw from North Carolina, Craig A. Smith and Alvin T. Smith from Rome, N.Y., and Sunni Harshaw from Las Vegas; 15 great-great-grandchildren and one great-great-great-grandchild, and a host of nieces, nephews, cousins and friends.
Service for Madeline Harshaw was held on Sunday, Nov. 2, at Central Chapel AME Church, with the Reverend Timothy Liggins officating and the Reverend Dr. John E. Freeman as eulogist. Interment was held on Monday, Nov. 3, at New Carlisle Cemetery, New Carlisle, Ohio. Arrangements were entrusted to Porter-Qualls-Dunlap Funeral Home.