Hale named new Yellow Springs police chief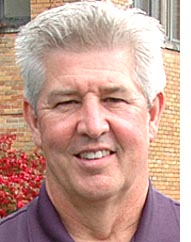 On Friday, Dec. 26, Village Manager Patti Bates named David Hale as the new Village Police Chief. Hale has been interim chief since Anthony Pettiford resigned in September.
Hale was one of two finalists for the position, with the other being David Pazynski of Xenia Police. Both candidates were well qualified and interviewed well, Bates said in a press release, but "in the end it came down to what was best for the Village and the Department and I thought that would be Dave Hale."
The selection was made after an exhaustive search process that included a 13-member search committee and interviews with both Village Council and the public.
Before coming to Yellow Springs, Hale served for 29 years with the Montgomery County Sheriff's Department, where he had a variety of positions, including dispatcher, sergeant, captain, major, and the head of a county-wide drug task force. He retired from that position in April and lives in Washington Township with his wife and two college-age children.
See the Jan. 1 News for a more detailed story.