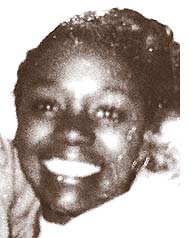 Wanda Rebecca Johnson passed away on Dec. 5, at the Springfield Masonic Home in Springfield, Ohio. She was 84.
Wanda was born in 1931, the daughter of Earl and Gladys Glass of Xenia, Ohio, the third of seven children. After completing school in Xenia, she went to work as a legal secretary in the law offices of Marshall J. Massie, of Xenia. She was very proud of the legal knowledge she gained there, and it inspired her to serve as a notary public for many years. Wanda married Charles E. Johnson of Xenia in 1950 and three children were born of that union, two boys and one girl. After several years during which they lived in the Johnsons' upstairs apartment, they moved to Yellow Springs to be close to Charles's job and raise their family in their own home. Wanda then spent several years as a dedicated wife and mother, during which time she hosted many large and wonderful family gatherings, during the holidays and year round. Wanda especially enjoyed Thanksgiving and Christmas with her family, which were wonderful occasions for her to create delectable feasts that made her home a paradise of tantalizing aromas, and grilling in her back yard on long summer afternoons that slowly transformed into cool summer evenings, full of family and fun. Wanda enjoyed everything about her home and homemaking immensely, and was particularly fond of gardening. Her annual garden was worthy of professional praise, and when she took in her harvest of beans, corn, tomatoes, peas, zucchini and other vegetables, in addition to grapes, she spent at least a month every year turning all of these into canned goods, including soups and jams, for the winter.
In 1971, however, Charles and Wanda separated, then divorced in 1974, and Wanda went to work as an executive secretary at the Yellow Springs Instrument Company, from which she retired in 1992. After her retirement, she worked for a time at the Yellow Springs Senior Center, where she made many friends. Wanda faced life's difficulties, of which divorce was one, with indomitable strength and faith in God. When she was ultimately challenged by Alzheimer's disease, her strength never abated, and her love for her home remained clear and true even as the disease caused her to sink into confusion. During the last years of her illness, she lived in the Pathways Alzheimer's unit at the Springfield Masonic Home in Springfield, Ohio. During that time she would often be seen teasing the nurses, making wisecracks and singing and dancing to the music of Frank Sinatra. When her time came, she went to be with her Lord peacefully, in her sleep.
In her last days, when Wanda was no longer able to get around or even to speak, the nurses did not think she could communicate anymore, but during one family visit, although she was experiencing some pain on that day, as we prayed with her she would become very quiet and peaceful. In one moment of singing together, we reminded her of her mother's favorite hymn, "Christ Is All," and asked her if she wanted to sing along on the chorus. Although she could not form actual words or make real music come out, she sang along with all her heart as best she could, and we knew that she was completely aware of what was happening around her, and that she knew she was in the bosom of her family, surrounded by love.
Wanda was preceded in death by her parents, Earl and Gladys Glass; five brothers, Earl Thomas, James William, Carl Orlando, Robert Harvey and Jerome Elsworth Glass; and one son, Charles Emerson Johnson. She is survived by one son, Clayton E. Johnson of Florida; her devoted daughter, Cyraina E. Johnson-Roullier and devoted son-in-law, Thierry Roullier, of Chicago, Ill.; three grandchildren, Solène and Auréane Roullier of Chicago and Charles E. Johnson, III, of Taylor, Mich.; her loving sister, Mary Ann Glass (Steven) Singleton; and a host of nieces, nephews, cousins and friends. She is also survived by one special and devoted friend, Andrée Bognar, whose help, love and care for Wanda in her last years cannot be put into words.
A memorial service for Wanda will be held on Jan. 3, 2015 at 11 a.m., at the First Baptist Church, located at 600 Dayton St. in Yellow Springs. A reception will be held at the church following the service.
Memorial contributions may be made to the Alzheimer's Association Miami Valley Chapter, 31 W. Whipp Rd., Dayton, OH 45459. Condolences may be sent to Cyraina Johnson-Roullier, 1614 N. Campbell Ave., Chicago, IL 60647.
"Christ was my strength in times of need
He carried me through my pains
Jesus was my comforter
As His presence was felt again.
Now I no longer worry
Nor suffer in anguish or pain
Christ has finished his work with me
And I am at peace with Him!"