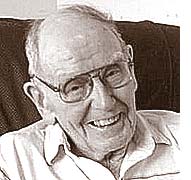 Ralph M. Grimes, of Springfield, entered eternal life on Monday, Jan. 5, at Springfield Regional Medical Center. He was 90.
Ralph was born Oct. 7, 1924, near Jeffersonville, the son of the late Grier and Cleora Grimes. He grew up in Yellow Springs, graduating from Bryan High School in 1942. He immediately entered the U.S. Navy and served 44 months during World War II, traveling around the world multiple times. He later attended Miami University in Oxford.
Ralph served as construction superintendent for Porter Construction Company and Hooper Construction Company in Yellow Springs, H.F. Thompson & Sons in Springfield, Wenrick Construction Company in Medway and WENCO, Inc. in New Carlisle. He was a talented craftsman, and enjoyed making beautiful wood furniture for his family's homes and for his church. He also enjoyed spending time in nature, particularly in the mountains of Tennessee and on the beaches of Florida. He treasured the time he shared with his family and was a devoted husband, father and grandfather. He was a member of Grace Evangelical Lutheran Church.
Ralph is survived by his loving wife of 56 years, Marjorie Grimes; his sons, Mark Grimes, of Springfield, and David (Becky) Grimes, of Akron; his granddaughters, Breanna Grimes and Brooke Grimes, of Norton; numerous nieces and nephews; and the family's beloved dog, Nugget. He was preceded in death by his brother, Wendell Grimes, and his sisters, Wilma Rilling, Adelaide Connery and Marianna Grimes.
A gathering of family and friends was held on Sunday, Jan. 11, at Littleton and Rue Funeral Home. A celebration of Ralph's life was held Monday, Jan. 12, at Grace Evangelical Lutheran Church, with Pastor Dan Powell officiating. In lieu of flowers, memorial contributions may be made to the Building Ministry Expansion Project at Grace Evangelical Lutheran Church, 1801 St. Paris Pike, Springfield, OH 45504 or to the donor's favorite charity.
The family would like to express its appreciation for the exceptional care that Ralph received at The Legacy at Forest Glen and in the ICU at Springfield Regional Medical Center. You may express condolences to the family at http://www.littletonandrue.com.