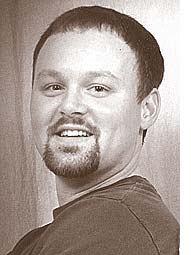 Brett Anthony Rinehart, of Kettering, Ohio, left this earth in the presence of loved ones on Friday, Feb. 6, 2015.
Brett was born July 8, 1973, in Coshocton, Ohio, to Linda Cushman and Dean Rinehart. He attended Lincoln Elementary through first grade and then moved to Yellow Springs. He participated in plays and was the lead role in the play Oliver. He enjoyed school forest, tennis, orchestra, mock trial, track and senior skip days. Brett made many lifelong friends in elementary school. He graduated from Yellow Springs High School in 1992.
Brett went on to attend Denison University. There, he graduated cum laude in 1996 with a double major in political science and minority studies. After college, he worked at the Miami Valley AIDS Task Force. He decided to follow in his mother's footsteps and attended The University of Dayton Law School, graduating in 2005. He practiced law for nearly 10 years and enjoyed sharing an office with his mother, Linda Cushman. Brett was a member of the Ohio Criminal Defense Lawyers Association.
Brett was a gifted litigator and took pride in his work. His sister, Lauren, often referred to him as "a beast" in the courtroom. He enjoyed watching tennis and was an avid OSU buckeye fan. He enjoyed game nights with Joe, Jerry U., Jerry W., Greg and others. He also loved to go to the movies with Jerry. Brett adored his family and being the first-born grandchild on both sides, he was the apple of his grandparents' eye. Brett loved spending time with his nieces and nephews and attended many sporting events. Brett was a vegetarian and was known in the family for making the best buckeyes, macaroni and cheese and sweet tea. He loved cats and his aquarium.
Brett is survived by his mother and stepfather, Linda Cushman and Erik Greiffenhagen; his father and stepmother, Dean and Judy Rinehart; two sisters, Lauren Rinehart and Deana Rinehart; nieces Ashlei, Ariana and Claire; nephews Mason, Quenta Jr. and Quentin; grandparents F. Donald Rinehart and Dorothy Ehrenberg; numerous aunts, uncles and cousins; special friends Jenny, Corrie, Joe, Jerry, Juan, Amy C., Mica, Paloma, Autumn, Naz and many of the class of 1992; and his kitty, Cray Cray.
He was preceded in death by his grandparents, Carol Rinehart, Hubert Cushman Jr., and Lyle Ehrenberg, Aunt Debbie Cushman, childhood friends Erika Hertzler and Katy Hoying and his cats, Magic, Priscilla, Ziggy, B.K., Sampson, Delilah and Maxwell.
Calling hours will be held Feb. 13 from 5–8 p.m., and Saturday, Feb. 14,1–2:30 p.m., with services following at 2:30 p.m. Calling and services will be held at Jackson, Lytle and Lewis in Springfield.
Additional calling hours will be held Sunday, Feb. 15, at Grace United Methodist Church in Coshocton, Ohio, 2–3 p.m., with burial following at South Lawn Cemetery in Coshocton.