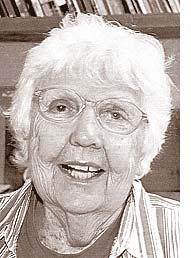 Mary Margaret Steele Morgan, eighth child born Sept. 10, 1925, to Robert and Mamie Beckett Steele of Alderson, W. Va., died on Jan. 30, at age 89 in Yellow Springs at Friends Care.
After working during World War II at Wright Field in Dayton as a computer operator and also an aircraft mechanic, she received her Bachelor of Science degree from the University of Dayton in 1954. She taught at The Miami Valley School, the Dayton Public Schools and became education director of a five county Head Start region. In 1967, she was awarded a Fellowship from Columbia University, New York City, where she earned a Master of Science degree in 1968.
In 1969, she became a candidate for the Dayton City Commission, the first woman candidate for that office. She was endorsed by the Dayton Daily News, which said "She is the best candidate for Dayton City Commission," but she did not unseat either incumbent. In 1979, she co-founded the Susan B. Anthony Memorial UnRest Home Womyn's Land Trust, a feminist education center, with her long time friend Jan Griesinger. In the 1980s, she was the first woman to be a candidate for the board of the Ohio University Credit Union. She received an award in Athens County in 2003 for 50 years of activism in the American Civil Liberties Union. She received the Social Justice Lifetime Service Award from the Unitarian Universalist Fellowship of Yellow Springs in 2007.
The Mayor of Dayton proclaimed Sept. 20, 2009, Mary Morgan Day — "For the rights of women by opening the door for women candidates in the Miami Valley and working tirelessly for social justice." She also received the Cathy Bantz "Making Democracy Work" award on Feb. 23, 2010, from the League of Women Voters. She was a Leadership Award winner of the Greene County Council on Aging in 2011.
Morgan was an active member of the ACLU, the First Unitarian Church in Dayton, Dayton Women's Liberation, Dayton Women's Rights Alliance and several anti-war and civil rights organizations. She was active in the Yellow Springs Senior Center and the Older and Bolder group. Morgan retired as an instructor from Ohio University in 1988 and then opened Antiques, Uniques and Reliques, a collector's shop in Amesville, Ohio, which later was destroyed by a flash flood.
She was preceded in death by her husband, Robert Morgan, an infant son, five sisters and two brothers. She is survived by four nieces, one nephew and friends Trudy K. Whitacre, Shirl LeVesconte, Pat Dewees, and Jan Griesinger. She donated her body to the Wright State University Anatomical Gift Program. Mary rescued many abandoned dogs and has asked that memorial gifts be directed to any county Humane Society or to Glen Helen in Yellow Springs.
Mary lived in Dayton from 1942–1977, in Athens County from 1977–2003, and in Yellow Springs from 2003 until her death.
Her memorial service will be held at the Yellow Springs Senior Center at 2 p.m. on Sunday, March 8, which is International Women's Day.