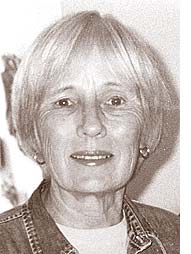 Kathryn Ann Merrill died Sunday, March 22. She was born Jan. 9,1935, in Hollywood, Calif. She attended Oberlin, Ohio State, the University of Illinois and the Suzuki Institute of Motsomoto, Japan. She was a violinist and founder of the Suzuki Music Strings Program for Cincinnati Public Schools, and a member of the Dayton Philharmonic Orchestra for nearly 30 years.
Kathryn was a world traveler, artist and writer, and leaves behind three beloved daughters, Lynn Ann Simons, Krista Jean Audax and Adrienne Alicia Simons; five grandchildren, Adrienne, Zachary, Donica, Erica and Colette, and three great-grandchildren, Billie, Rubie and Mason.
In lieu of a memorial, we ask that you take a walk and smell the flowers.