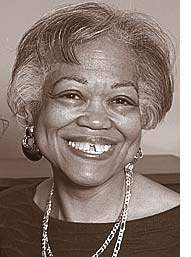 Cassandra Hill Courtney, 66, of Yellow Springs, passed on Wednesday, Sept. 30, 2015.
She was the oldest daughter of Marion Alton Hill (deceased) and Mary Stokes Hill, who survives her. Cassandra was born in Newport News, Va., and raised in nearby Hampton, Va. She graduated as valedictorian of George P. Phenix High School in 1967 and went on to Wilson College in Chambersburg, Pa., where she was inducted into Phi Beta Kappa, and graduated with honors with a degree in psychology. She completed her Ph.D. in educational psychology and statistics at Pennsylvania State University in 1980.
Cassandra met her devoted husband, Vernon Courtney, in a high school production of "A Midsummer Night's Dream," when she was a sophomore and he was a senior. They went on to date throughout high school and college, and were married in 1974. Partnership and teamwork were at the core of their marriage, and though they did not always see eye to eye, they always found a way to compromise and work towards a common goal. Dedicated parents, they happily "basked in the glory" of their only daughter Aliya, who learned from them the value of scholarship and being of service to others. On Monday, Sept. 28th, 2015, Cassandra and Vernon celebrated 41 years of marriage.
Cassandra's professional life was dedicated to the field of education, and she spent many years passionately working towards the improvement of college and graduate level educational programs. She served as the vice president of academic affairs at Wilberforce University, in Wilberforce, Ohio, and later went on to develop CLIMB, an innovative adult education program at the university designed to help non-traditional students complete their undergraduate degrees. In 1994, she left Wilberforce and moved to Washington D.C. to become a program officer and later deputy director at FIPSE, a grant-awarding division of the U.S. Department of Education. She often described her work at FIPSE as the most rewarding of her professional career, and she remained there until her retirement in 2011.
The early years of Cassandra's retirement were spent with Vernon helping to care for their two grandsons, Elijah and Vernon Spencer, in Ann Arbor, Mich., where Aliya was completing her medical residency training. These years, though tiring, were the source of many happy memories, and when Cassandra and Vernon moved back to Yellow Springs in 2013, the grandchildren would often spend stretches of the summer in Ohio, filling the house with love and commotion. Over the past two years Cassandra faced a number of serious health challenges, and in May 2015 was diagnosed with non-Hodgkin's lymphoma. Cassandra approached this diagnosis with her typical optimism, and continued to remain active, making her annual trip to the Detroit Jazz Festival, participating in a variety of local cultural events, and volunteering in her local community.
Cassandra was a life member of Alpha Kappa Alpha, Sorority Inc., and for many years was a member of the Rho Omega chapter in Wilberforce. She was a dedicated member of the Springfield chapter of the Links, Inc. before transferring to the Reston chapter during her years in Washington, D.C. When she returned to Yellow Springs, she cheerfully rejoined the Springfield chapter and served tirelessly until her passing. She served as the alumna representative to the board of trustees at her alma mater, Wilson College, and was the recipient of numerous awards and honors.
In addition to her mother, Cassandra is survived by her husband Vernon; daughter Aliya Courtney Hines (Patrick); grandsons Elijah and Vernon Spencer Hines; sister Louise Denise Hill; sister-in-law Myrna (Russell) Brooks; brother-in-law Albert Courtney; uncle John Hill; aunt Savanna Davis; niece Courtenay Sturdivant; nephew David (Monica) Sturdivant; beloved best friend Corlease Sills and a host of cousins.
A memorial service celebrating Cassandra's life will be held on Oct. 18 at 3 p.m. at Central Chapel A.M.E. Church. In lieu of flowers, the family requests that donations be made in Cassandra's name to the Southwest Ohio Chapter of the JDRF (70 Birch Alley, Suite 240, Beavercreek, Ohio 45440, (937) 439-2873), to support research on the treatment and cure of type 1 diabetes.