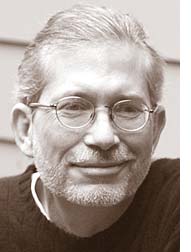 Steven A. Smith, 56, of Dayton, passed away peacefully Friday, March 18, 2016, at home, surrounded by family. Born July 18, 1959, he was the son of Paul J. Smith and the late Patricia (Brown) Smith of Beavercreek. He is survived by his long-term partner and loving husband, Scott L. Shook, along with his father Paul Smith, brother David A. Smith and wife Nancy, sister Mary Kay Smith and spouse Melissa Heston, nieces and nephews Katerina Smith, Victor Smith, Emma Holman-Smith, Samuel Holman-Smith and Henry Smith-Heston and dear aunt Geraldine Brown. He leaves behind many additional friends and family members missing his kind nature and acerbic wit. He will also be missed by his two beloved rescued dogs, Molly and Pete.
Steven was an incredibly gifted artist and skilled craftsman who designed and made jewelry for over 40 years. He honed his skills as a teenager in the innovative Living Arts program in Dayton. He graduated from Beavercreek High School in 1977 and then attended the Gem City College of Horology. If you ever had a custom piece of jewelry designed or a special diamond or gem stone set in the last 30 years at James Free Jewelers, Steve probably did it, or had his hand in the design. His eye and artistry for design were legendary, and the legacy of the many pieces of artwork will live on past his shortened life.
To honor Steve's wishes, there will be a celebration of life gathering in May for family and friends to share memories and stories. Contact friends/family for details.