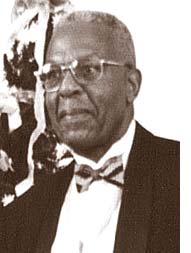 Orlando Vernon Brown, age 88, went home to be with the Lord on Tuesday, Oct. 18, at Friends Care Nursing Home in Yellow Springs. He was born on Jan. 14, 1928, the son of the late Alonzo Owens Brown and Hester Williams Brown.
Orlando is survived by wife Maude Leanora Brown; son Orlando II, of Yellow Springs; Allen, of West Carrollton, Ohio; Martin (Christin) of Columbus, Ohio; and "daughter" Denise Lennon, of Yellow Springs.
Orlando was born in Colliers, W.Va., and raised in Triadelphia, W. Va., graduating from Lincoln High School in Wheeling, W. Va., in 1945. He and his wife, Maude, moved to Yellow Springs in 1955.
Orlando was a graduate of West Virginia State University, Central State University and Wright State University and was a Korean War veteran. Following several years of employment at Vernay Laboratories in Yellow Springs, Orlando began a career in education as a teacher in Dayton City Schools and retired from Springfield City Schools after several years as both a teacher and a principal.
Orlando had a gregarious personality and was well-known around Yellow Springs. He was involved in numerous community activities including: chairman of Boy Scout Troop 78 for eight years; member of Yellow Springs Community Foundation; board member of Yellow Springs Federal Credit Union; and member and treasurer of Yellow Springs Senior Center.
Orlando was known as a jack-of-all-trades. He put those talents to work by assisting in the laying of sidewalks throughout the village during his early years in Yellow Springs, laying tile in his church and doing a variety of repairs in both his home and rental property.
During his retirement years, Orlando enjoyed managing his rental property, traveling, and working in his yard. He touched many lives during his 88 years on this earth and will be missed.
Service and visitation for Orlando Brown were held Monday, Oct. 24, 2016, at Central Chapel A.M.E. Church, with Pastor Dwight E. Smith officiating and the Rev. Dr. John E. Freeman Eulogist. Interment followed at Glen Forest Cemetery. In lieu of flowers, donations may be made in his memory to Central Chapel A.M.E. Church, 411 S. High St., Yellow Springs. Arrangements entrusted to Porter-Qualls-Dunlap Funeral Home.