I had caught a glimpse of the advertisement…the graceful scrolling head of a string instrument…and skimmed over the news article announcing the event. However, it was my friend Jennifer Gilchrest who got my full attention on the eve of the festival. Later that Saturday evening, she told me, she would sing a beautiful classical piece with a ensemble of cellos.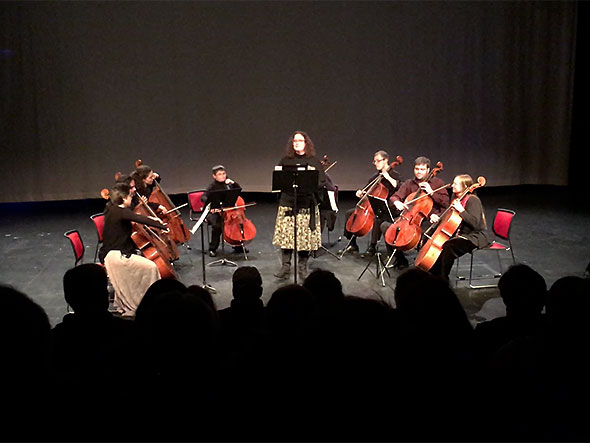 The opportunity had just landed at her doorstep. A band of cellists entered Kismet and while shopping they happened to lament over a piece that they'd be unable to perform. Their singer had fallen ill. Gilchrest commiserated with the musicians but offered herself as potential remedy. She happened to know the piece Bachianas Brasileiras No. 5 by composure Heitor Villa-Lobos. If they were inclined, a couple of mutual colleagues would vouch for Gilchrest's voice.
The cellists rejoiced and left the shop with new treasures both material and melodious. Jennifer's face lit up as she described evening's event that she would soon be a part. It was the opening concert of a week long festival celebrating cello music. Catching her excitement, I pledged to attend.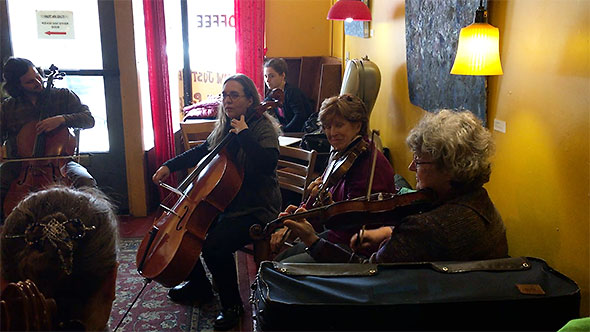 Sure enough, introducing the piece at the evening's event, Lisa Liske-Doorandish mused how only in Yellow Springs that one could go into a dress shop and come out with an accomplished soprano. Through out the week, accompanists continued to spring out of the village's woodwork to contribute to the festival's events.