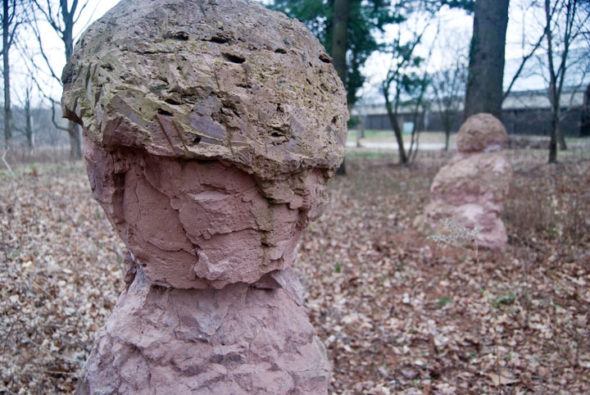 Forgotten Springs, vol. 2 – Emilys' Garden
Photos by Aaron Zaremsky
Text by Dylan Taylor-Lehman
When Aaron and I began talking about this series, I was excited for the opportunities to check out weird old buildings and hidden foundations and have a little fun playing up a place's forgotten-ness. Even places that have hosted grisly crimes, such as the valley behind the Bryan Center that we presented as the first post in this series, the crimes happened long enough ago that the tragedy has crossed over into folklore, an interesting historic anecdote that can be written about with some flippancy in the present.
And so when Aaron and I went to check out what he described as an overgrown statue garden on the Antioch campus, I was expecting another crumbling relic that held a quirky story. The garden is called Emilys' Garden, and it is in a patch of trees across from the Science building and the old Arts building. As the pictures show, there are in fact some weathered relics: human-shaped figures sit among tangles and weeds, with small piles of rock at the base showing their steady decay. A few of them have pieces of rebar sticking out where big chunks have fallen away.
The day we were there was appropriately grim and grey. Walking around the site, even before I knew what it was, I could tell that the garden spoke for something monumentally sad. Emilys' Garden commemorates the lives of two women, Emily Howell and Emily Eagen, who were murdered 17 years ago while on co-op in Costa Rica. Far from being a quirky tale, the loss of their lives feels like something that future Yellow Springers will never be able to talk about with detachment.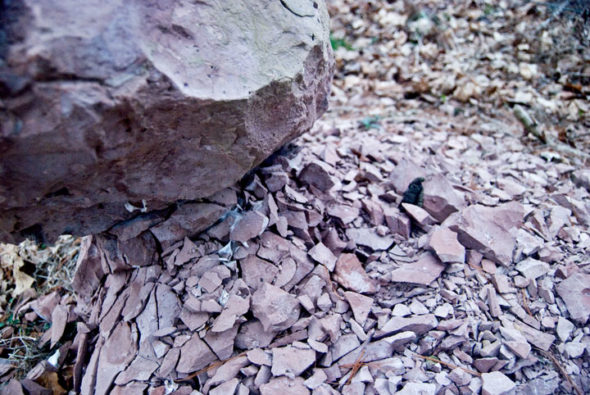 Emily Howell, a poet and photographer, was a second-year student at Antioch who came to the school from Lexington, KY. There she met Emily Eagen, a perpetually happy swimmer from Ann Arbor, and the two became fast friends. They hosted a radio program together and celebrated that they were born only four days apart. When Howell went to study in Costa Rica as part of her co-op, there was no question that Eagen would come visit. In March 2000, the two Emilys and another Antioch student rented a car and stayed in a cabin in Puerto Viejo. On March 12, Eagen and Howell went to a nearby bar while their friend stayed behind. They never came back and were reported missing the next morning. Not long after, their jeep was found on the side of a rural road, and it had been set on fire. In the bushes near the jeep were the bodies of Howell and Eagen, who had been shot to death. Both were 19.
Police determined that the women were abducted outside of a bar and driven to the spot where they were killed. Two men were eventually arrested and charged with the murders. A 16-year old, who had recently attacked a security guard with poison gas, was seen driving the women's jeep and wearing jewelry taken from Howell. A 19-year old accomplice was arrested soon thereafter. The murder weapon was recovered when two kids turned over the gun that had been thrown out of the men's car window. The 16-year old was sentenced to 14 and a half years in prison while the 19-year old was given 70 years since he was an adult. A third suspect reportedly escaped back to Nicaragua before he could be apprehended.
Many newspaper accounts from the time mention the families' agonizing screams when they were given the news. The families eventually traveled to Costa Rica to claim their daughters. The Howells also ended up coming back with a new puppy, as the Emilys were constantly playing with a litter of seven puppies who knew exactly which cabin door to come to for food and attention. The Emilys were buried, with memorial ceremonies held on campus and their respective hometowns. The Eagen family eventually donated $6,000 they had raised to three schools in rural Costa Rica in Emily's name.
The women were also memorialized on campus. Two redbud trees were planted in their honor, and a student named Alena Schaim created Emilys' Garden as her senior project. Schaim raised money to construct the sculptures and spent more than $5,000 out of pocket on the project. While Schaim didn't personally know the Emilys, she "'fell in love with them' while working on the sculptures."
"I don't necessarily believe in ghosts, but I think they've been watching me work," she told the Dayton Daily News in 2003. "I feel that they are with me, and the sculptures are part of me."
There are five figures in a circle in the garden. By design, they are built to fall apart, a paean to the immutable truth that we all return to the earth. "The circle represents creations and the revision of both Emilys' lives," Schaim said.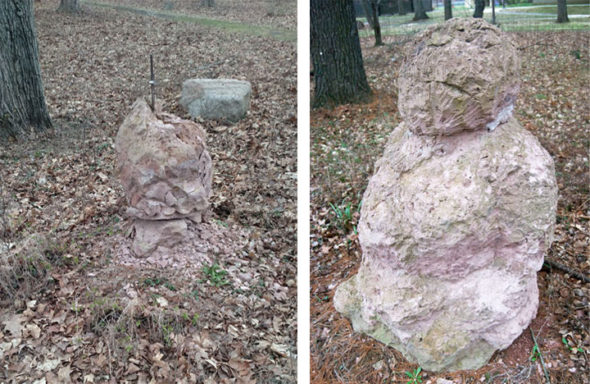 The theory goes that the Emilys were killed in a carjacking gone awry. It's not fair that someone can wield such control over another's life, and it's not fair that their lives raced only to this heartbreaking conclusion.The entirety of their lives, all of their jokes, ambitions, interests, relationships, cut off in that one instant. When you are in the middle of an incredible adventure, like they were, it's easy to feel that the world is only a beautiful, welcoming place. The more I read about the case, the more I could (begin to) imagine the terror that came with having that reality shattered.
Emilys' Garden is a "forgotten corner" of Yellow Springs, in the sense that it is a place not often seen or talked about. But while a place can be avoided, the dark side of the human condition cannot. We can only will ourselves to forget there is an often terrible yin to life's yang. The statues have crumbled, but the gloom does not.