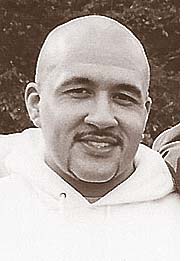 Adrian Scott Roberts was born on May 19, 1975, at Lakenheath Air Force Base in England.
He lived in England for his first five years before stays in California, Ohio and Saudi Arabia, eventually settling back in Yellow Springs in 1981.
Adrian was active in sports during his youth, playing soccer, baseball and football. He loved to swim and ride his bike, enjoying tremendous freedom roaming the village of Yellow Springs.
He attended Yellow Springs High School and Greene County Career Center, and developed several meaningful friendships that lasted his lifetime.
After graduating from high school, he attended Clark State Community College before moving to Cincinnati, where he soon began his 19-year career at Formica.
Adrian was preceded in death by his father, Theodore B. Roberts. He is survived by his mother, Ann P. (White) Roberts; his brother, Jonathan W. Roberts (Angela); his children, Devon Anthony Roberts (14) and Alexis Roxann Roberts (9); his longtime partner, Nichole Thompson; his uncle, Bill White; and his nephews, Jonathan Myles Roberts (18) and Justine Theodore Roberts (15). In addition, he leaves many cousins, extended family members and family friends in the U.S. and U.K.
He's remembered as being hard-working, good-natured and always genuine. He was known for his big smile, great sense of humor and infectious laugh. Adrian was an avid music lover, enthusiastic sports fan and enjoyed time spent with family and friends. He was also a tremendous storyteller and talented writer. He could make anyone laugh with comedic recounts of his own adventures. He was tirelessly devoted to being a good father to Devon and Alexis, a loving partner to Nicole and loyal to his closest friends.
Adrian died on April 22, 2017, in Crescent Springs, Ky., at the age of 41.
Adrian's family would like to thank those many people who have shared their thoughts, prayers and support during this difficult time.
In lieu of flowers, please consider gifts to his children's education fund at gofundme.com/education-fund-adrians-children.
A memorial gathering will be held Friday, May 5, 3 p.m., at Jackson Lytle and Lewis Funeral Home in Yellow Springs, followed at 4 p.m. by a memorial service. A reception will follow at 5 p.m. at Mills Park Hotel.