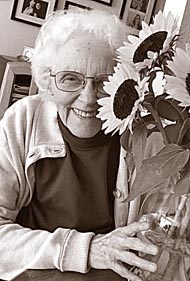 Oct. 6, 1929—Oct. 10, 2018
Everyone who got to know Eileen loved her sense of humor. She delivered it quietly and it was full of intelligence and wit. It never left her and she helped those around her with her humor even as she faded into the other world.
Eileen was caring, aesthetic and cultured. She loved the colors of twilight; buying seasonal flowers; any place with a gorgeous view; and had an insatiable sweet tooth.
Grammy — as she was more commonly known — deeply enjoyed her granddaughters, Cara and Rachel Celeste Patten, of Seattle. She read to them for hours, did arts and crafts, and played store with them. As they grew up, she never missed a performance and read every book assigned to the girls in college.
Reading was one of her favorite pastimes. She relished reading good books, as well as The Guardian and The New Yorker. She always knew everything that was going on in the world and had a strong opinion about it.
When she was more mobile, she loved to volunteer at the Seattle Art Museum.
She passed just days after we celebrated her 89th birthday with a wonderful birthday dinner prepared by her niece, Amy. She rallied in every possible way for the celebration, which included a requisite sweet dessert and a toast with a glass of her favorite bubbly, Prosecco.
She was born in 1929 in Buffalo, N. Y. She left New York when she went to the New England Conservatory of Music. There, she met and married her husband, John Richard Ronsheim. They lived for some years in Yellow Springs when John was a music professor. Phoebe was born when they were living in Florence, Italy. Throughout all of her travels in Europe and the U.S.A., she thoroughly enjoyed the music, art and architecture wherever she was.
Already passed are John Richard Ronsheim, husband; Rhoda and Edwin Stitz, parents; and Edwin Sinclair Stitz, brother.
Please raise a glass of Prosecco to wish her a bon voyage!
To send condolences to Phoebe, email itsontag@gmail.com.