Mary Willie Johnson Durgans Willett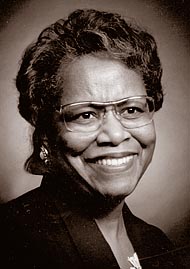 Voted by her high school classmates "the most optimistic girl" in the senior class, Mary Willie Johnson Durgans Willett passed away peacefully surrounded by the love of her family during a majestic sunrise on Tuesday, Dec. 18, 2018. The youngest girl of 14 children, her birth certificate simply lists the name "Baby Girl Moore." Mary was born on April 15, 1928, in New Castle, Pa., to Clyde Era Moore and William Collier. She became Mary Willie Johnson after being adopted by an aunt, Elsie Myrick Johnson, who became her beloved "mama." Mary grew up in Griffin, Ga., and Chicago, Ill.
Editor-in-Chief of her high school year book, Mary adopted the motto "Learn to live, and live to learn." While at Spelman College, Mary double majored in Social Science and French and she was President of the college chapter of the NAACP. Mary graduated from Spelman College in 1949 and earned an MA in Sociology from Atlanta University. She became a social worker with the Chicago Welfare Department. Mary married her first husband, Thomas L. Durgans Sr., and they briefly moved to Dayton before purchasing a house in the close-knit neighborhood of Western Hills in Springfield, Ohio. Thomas worked as an electrical engineer at Wright-Patterson Air Force Base for 29 years. Together they raised four children, Thomas Jr., Kenneth, Karen and Cheryl. Mary considered motherhood to be her greatest life achievement.
Passionate about children and education, she became a special education teacher, and ultimately Dean of Students at Springfield South High School. She was very committed to her community, serving as past president of Fulton PTA in Springfield, but also working as an activist alongside her husband, focusing on housing discrimination practiced against African-American soldiers and civilians working at Wright-Patterson Air Force Base in the Page Manor section of Dayton, Ohio, in the 1950s. Other leadership roles include: former Trustee of First Baptist Church in Yellow Springs, Ohio; Past President, Springfield Association of African-American School Educators; Past President, Springfield Council for Exceptional Children; and Past President of Springfield, Ohio, Chapter of Phi Delta Kappa.
In 1968, after struggling to obtain land on which to build a home in Springfield, Ohio, because of racist housing practices, Mary and Thomas moved into the home they had built in Yellow Springs, Ohio, where they were welcomed into the community. In 1990, after 38 years of marriage, Thomas passed away. In 1994, Mary married Edward V. Willett, a former Chicago police officer and Tuskegee airman. She welcomed four stepchildren, Vernetta, Everett, Melvin and Linda. They were married for 22 years before his passing in 2016. "Ma Mary," as she was affectionately called, informally adopted numerous children, adults and even little animals as part of her family over the years. Her capacity to love was awe inspiring. She disarmed even the toughest people with her amazing smile, good sense of humor and incredible kindness.
A life-time learner, Mary's sharp intellectual curiosity remained strong, despite her cognitive decline from vascular dementia, which she fought through speech therapy, disciplined reading and discussion of the New York Times paper and Biblical scriptures, adult coloring books and various puzzles, and a continuous interaction with people and pets. An avid traveler, Mary loved car rides and watching the landscape. She loved growing flowers in her yard, music and attending cultural events. She was an avid reader who just as easily enjoyed books by writer James Baldwin, topics about art and African-American history, but also loved mysteries — having read every published Agatha Christie novel.
During her life, she was honored with awards that included the Recognition Award for Outstanding Contributions Relating to Equal Education Opportunities for Springfield Youth from Wittenberg Upward Bound Program, and the Exemplary Employee Award, Springfield, Ohio, City Schools. The annual Mary Durgans Good Citizenship Award was established in her name when she retired from Springfield South High School.
Mary was the last survivor of 14 siblings. She was also preceded in death by her mother, Clyde Era Casey, her aunt/adoptive mother, Elsie Myrick Johnson, her father, William Collier, two spouses, Thomas L. Durgans Sr. and Edward V. Willett, and one step-daughter, Vernetta R. Willett.
She is survived by her children: Thomas Durgans Jr., Kenneth (Sandy) Durgans, Karen Durgans and Cheryl Durgans; stepchildren: Everett Willett, Melvin Willett, and Linda (Donald) McDonald; grandchildren: Rachel Durgans, Crystal Durgans, Jameelah Al'Buhisi, Anthony Durgans, Rebecca Ayres, William 'Freddy' Greer, Tony Johnson, Matthew Johnson, Kenya Durgans, Khary Durgans, Brian Collins, Malcolm Collins, Gysai Durgans and Zakara Durgans, James McDonald, Daniel McDonald, Barrington White, Rashad Willett and Major Willett; special nieces and nephews: Anita Moore, Vonnie (Danny) Fonteno, and Charles (Bobbi) Bailey, Anita Thompson, Annie Mae Moore; special cousins, Kimberly and Joshua Shores; adopted son, Elias Kelley; childhood friend, Ralph Wynn; and other cherished relatives and friends.
The family extends a special thanks to Porter-Qualls-Freeman Funeral Home, Kettering Home Health Care/Alternate Solutions, Ohio Hospice of Dayton, Theresa Bondurant Wagner, Dynamic Senior Solutions, Dr. Janet Roberto, Pastor William Randolph and First Baptist Church of Yellow Springs, Bishop T. L. Martin and Maranatha Church of Dayton, Musicians and Program Participants, Captain Judy Sealey, Duane Holmes, Alphonso and Audrey Smith and beloved family and friends.
Mary's "Celebration of Life" was held on Thursday, Dec. 27, 2018, with a 10 a.m. visitation and 11 a.m. service at First Baptist Church, 600 Dayton St., Yellow Springs. Arrangements entrusted to Porter-Qualls-Freeman Funeral Home.