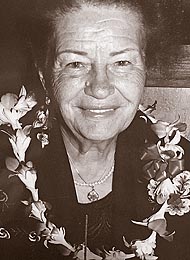 Ghamar Tabibian Behjati, 98, of Yellow Springs, ascended into the next station of life on July 5, 2019.
She was born on Jan. 1, 1921, in Tuyserkan, Iran. In addition to Farsi, she was a self-taught speaker of Hebrew, English and Arabic. An avid reader, she memorized and recited volumes worth of poems and prayers.
Ghamar became a Bahá'í in 1939 after her brother, Abdullah Boroumand, found the Bahá'í faith. On her own, she investigated and proclaimed her love for Bahá'u'lláh at 18 years old.
She married her husband, Enayat Behjati (now deceased) in 1939. They immigrated from Iran to Sylvania, Ohio, in 1979. She is survived by her children, Khosrow, Farideh, Farzaneh, Mojdeh and Mojgan; 14 grandchildren and 13 great-grandchildren. Ghamar and Enayat were married for 59 years before his passing in 1998.
Ghamar loved her faith, family and friends — she never was at a loss for words of love around strangers. Her family and friends will always remember her for her kindness, generosity and service mindset. She will be missed dearly.
Funeral services were held on Sunday, July 7.