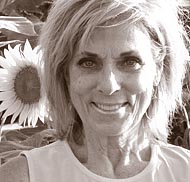 Kathleen Ann Evans (Kathi Young), 76, of Hudson, Ohio, passed away peacefully on Monday, June 24, 2019, at Friends Care Center in Yellow Springs. She was born on April 20, 1943 in Cleveland, Ohio, to the late Dr. John J. and Helen (Staple) Evans. In addition to her parents, Kathleen was preceded in death by her brother, Dr. John Evans Jr. She leaves behind her children, Daniel (Karen) Young and Alice (Mario Basora) Young-Basora; and grandchildren, Carina Basora, Mateo Basora and Nikolas Young. Kathleen is also survived by her brothers, James, Robert and Thomas Evans; as well as numerous nieces and nephews.
Kathleen was an artist, entrepreneur, inventor, pianist, cartoonist, scuba diver, writer, television news reporter, athlete, animal lover, golfer, muralist, Leukemia survivor, friend, mother and grandmother. She attended Regina High School in Cleveland, Ohio and went on to Case Western Reserve University and graduated from The Ohio State University with degrees in English, fine arts and medical illustration. Later in life, she returned to school to study law at Dyke College (now Chancellor University) where she also served on their board of advisors, earning a degree as a paralegal.
One of the first female entrepreneurs in the field of legal-medical illustration, she was an accomplished female business owner ahead of her time, accumulating awards and acknowledgements for her successes. Kathi took time to mentor others, especially women aspiring to build careers in her industry. She was known for her passions in life, exceptional creativity, commitment to her work and inspiring others.
Midway in her life, she survived Chronic Myelogenous Leukemia by way of a bone marrow transplant. Since then, she was spirited about raising money for the Leukemia Lymphoma Society and participated in the 111 mile "Tour de Tucson" bicycle race shortly after receiving a hip transplant. She was a distinguished volunteer for many charities, including the Leukemia and Lymphoma society, The 4th Angel Cancer Patient and Caregiver Mentoring Program and the Humane Society.

A memorial service will be held on Saturday, July 20, in Cincinnati, to celebrate Kathi's life. Contributions in Kathi's memory can be made to the Leukemia and Lymphoma Society, The Humane Society or Dynamic Senior Solutions.