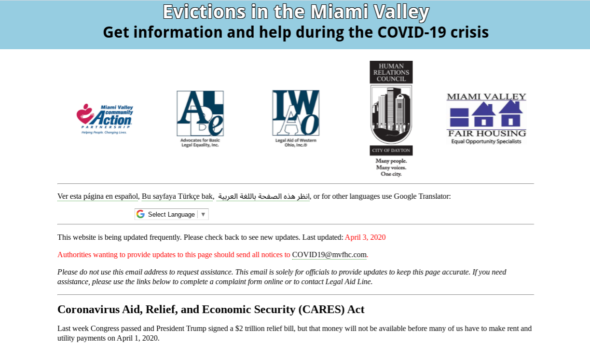 Dayton law firm releases resources for tenants during COVID-19
Attorneys at the Dayton office of Advocates for Legal Equality, or ABLE, have put together this website as a resource for tenants: "Evictions in the Miami Valley: Get information and help during the COVID-19 crisis."
The website notes that while CARES Act, signed into law on March 27, provides financial stipends for most Americans, those who have lost their incomes due to the shuttering of non-essential businesses and other layoffs may not see their checks for some time.
Helpfully, the CARES Act also states that "evictions for not paying rent and late fees are prohibited until July 25th for any landlord who has a federally backed mortgage or who receives government housing subsidies," the website notes. About 70% of all mortgages are federally backed.
Also according to the website, tenants facing eviction or being threatened with eviction cannot be moved out of their homes without a court order. Eviction proceedings have been suspended in area courts, including at the Xenia Municipal Court, where cases have been continued until May 8.
The site additionally gives tenants a form letter they can use when communicating with their landlord to request more time to pay rent or that late fees be waived, along with other resources.
Visit the site here: http://mvcovid19eviction.com/
So far 272,129 people in Ohio have filed for unemployment, according to Department of Labor statistics released on April 2. Ohio currently has the sixth most unemployment claims in the nation. In 2011, about 18% of Yellow Springs jobs were in the retail, accommodation and food industries, accounting for about 250 local jobs.