May 29, 1933–Dec. 9, 2020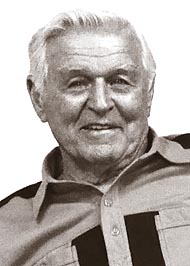 Duke was born and raised in the city of Allentown, PA.
His humble beginnings lead us to tell his story today.
One of his many interests was playing with prose,
and such is the reason this format was chose.
He went peacefully at home, at the age of 87.
By all accounts, he's already ascended to heaven.
He graduated high school from Allentown High;
Pictures confirm he was a most handsome guy.
Duke became a teacher, training at East Stroudsburg State.
His students would tell you that his skills seemed innate.
Then off to the Army, being all he could be.
By the time he got out, he'd have a son on each knee.
Nine years teaching high school in the State of PA.
Adding two daughters with Dolores, in the months of April and May.
In '66, Yellow Springs and Antioch would beckon and call,
where he'd teach and form clubs of soccer, basket- and softball.
Years with youth soccer, then coaching YS High from '75–79.
When Antioch struggled financially, it was an obvious sign.
To Iowa Wesleyan, where he taught majors in H.P.E. & R.
Coaching two women's teams, co-ed swimming and raising the bar.
Yellow Springs pulled at his heartstrings, a town hard to compare,
working at W.P.A.F.B.as a specialist in morale and welfare.
He finished working and coaching in the public schools of Troy,
finally retiring in '03, he could hardly conceal his great joy.
He followed Cardinals baseball and men's basketball at U.D.
Traveling, gardening and friends, having fun was the key.
Duke spent his life teaching and coaching, not for the glory,
making a difference in young lives, that was his story.
Duke Conrad will be lovingly remembered by his wife of 65 years, Dolores; his children, Duke S. (Bobbi), Craig (Mary), Kathy, Gwen (Scott), and Gregory; and by his five grandchildren, Nicole (Eric) Reynolds and Jake (Krista), Kendra, Kelsey and Nicholas Gregory.
Special thanks are extended by the family to Adam Lambert and Felicity Nibert for their dedicated service to Duke the past two years and the caring staff from Hospice of Dayton.
In this unusual, COVID-19 year of 2020, no celebration of life is immediately planned. The family will notify loved ones in the future when a service is scheduled.