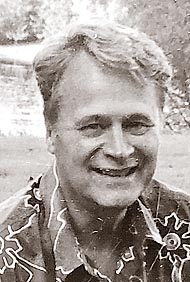 Keith Erin Kinney passed away on June 25, 2021, at his beloved studio/barn in Yellow Springs. Keith was born on Sept. 18, 1944, in Springfield, Ohio, the middle son of Robert and Marjol Kinney.
Keith always lived life his way. A natural athlete in high school, he went to Powell Community College in Cody, Wyo., on a basketball scholarship. After one year, he decided to sign a professional baseball contract with the Philadelphia Phillies on their farm team, the Miami Marlins. Keith pitched in the league for three years. Although he threw out his pitching arm, he was able to narrowly escape the draft and Vietnam due to the injury. He returned to Ohio and eventually found his way back to Yellow Springs, where his dad's family had lived.
Keith and his wife, Linda, began working in the arts and crafts world in the 1970s. When Keith had a horrific motorcycle accident in 1990, he refused to live on disability and began working as a wood artisan, which continued for the next 30 years.
The '90s also saw Keith's next sports activity, which he called "competitive driving." Many of his friends chose not to get into any vehicle with Keith — or closed their eyes and hoped for the best.
Keith was the eternal optimist and, remarkably, seemed to make the impossible happen on more than one occasion. He was happiest when "working on a plan." Keith didn't have to complete a plan, but he always had to have a plan.
He also enjoyed shooting pool in his studio with his buddies or spending time with his family.
While his younger brother, Daryl, preceded Keith in death, Keith is survived by his wife, Linda; daughter, Stacy (Brett Delaney); son, Drue (Melissa); grandson, Cory Daniel; granddaughters, Gabrielle, Paige and Skylar Kinney; and brother, Michael Kinney.
A celebration of life ceremony will be planned for a future date.