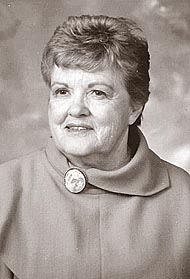 Esther Breedlove Baldwin, born Aug. 14, 1923, in Indianapolis, Ind., passed peacefully on Sept. 2, 2021, at the grand age of 98.
She is survived by her daughters and son, Betsy Baldwin Whitney, of Dayton, Ohio; Robert F. Baldwin, of Yellow Springs; Nancy Nierstheimer, of Sidney, Ohio; and Linda Nierstheimer Wilken, of Celina, Ohio. She was most proud of her 20 grandchildren, numerous great-grandchildren and 10 glorious nieces and nephews.
Esther was preceded in death by her parents, John L. Breedlove and Goldie Elizabeth Moore Breedlove; her four siblings; first husband, Paul Howard Nierstheimer, and second husband, Robert F. Baldwin Sr.; daughter, Joy Baldwin Schweizer; sons-in-law, Edward Schweizer and Lee Whitney; daughter-in-law, Carrie Baldwin; one niece, Joan Breedlove Wilder; and one grandson, Robert Schweizer.
Esther was the last of her family generation, and being the baby of her family, she was known for her vim and vigor. She led her nieces and nephews down the pathway of life, sometimes fun and sometimes just moral support. She adored her grandchildren.
Esther was a 50-year member of Eastern Star, joining Acacia Chapter in 1965. Esther enjoyed music and played organ for her Indianapolis Church from high school until she was first married.
Her love of music continued as she lived at Ohio Living Dorothy Love Retirement Community, where she sang with all who came to visit — mostly hymns, but music of the 1940s as well.
Esther had a long career in Dayton as a regional Welcome Wagon Lady, then as an insurance agent, and finally as an executive secretary for the Baldwin and Whitney Insurance Agency. She will be missed by many.
Services were held on Saturday, Sept. 4, 2021, at First Presbyterian Church of Yellow Springs, Ohio, 314 Xenia Ave., Yellow Springs, with Pastor Daria Schaffnit officiating. She was laid to rest at Glen Forest Cemetery. Arrangements in care of Jackson Lytle & Lewis Funeral Home. Condolences may be expressed to her family by visiting http://www.jacksonlytle.com.