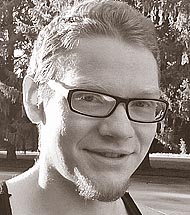 On Friday, Aug. 27, 2021, Misu Wunnish Crocker, of Athens, Ohio, left this plane at the age of 25, after an instant fatal car crash.
He is survived by his mother, Marta Mari, of Rovinj, Croatia, and her partner, Douglas M. Bailey; father, Billy Ray Crocker Jr., of Cleveland, Ohio; sister, Madison Melody Crocker, and her partner, along with their son, Bear Dean Crocker; brother, Dharma Mani-Pi Crocker; dear friend, Lorien Chavez; and grandmother, Maryann Crocker Stone, and her husband.
Celebration of life services will be held Saturday, Sept. 11, beginning at 8 p.m., in the chapel at the Ohio Renaissance Festival, and on Sunday, Sept. 12, 2–5 p.m., at The Grange in Amesville, Ohio. A third celebration of life will be held in Yellow Springs on a date to be determined.
Arrangements entrusted to Graumlich Funeral Home. For updates on the Yellow Springs service, and to leave condolences on a tribute page, visit graumlichfuneralhome.com.