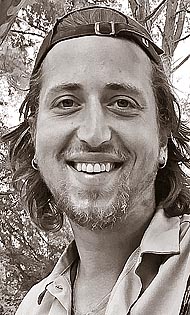 Avram Wimer-Farr died of an undiagnosed heart condition on Friday, Sept. 24, at his residence in Yellow Springs, Ohio. He was 26, born Dec. 28, 1994.
Avram attended Yellow Springs High school. He took classes and was a student worker at both Antioch University Midwest and Miami University. He worked for five years at Siebenthaler's in Beavercreek as a nurseryman, a job that allowed him to work outside and be among co-workers he considered friends. Siebenthaler's planted a beautiful Kentucky yellowwood tree in his memory.
Avram was creative and funny and always had a smile to share. He loved walking at the covered bridge; spending time with his dog, Lucy; watching the fish in his aquarium; and sitting on his deck listening to music. Most of all, Avram was kind and gentle and loving.
Avram is survived by his family: Jayne and Stephen Richeson, and his sister, Willow, of Yellow Springs; and Brad and Ashlie Farr, and his twin brothers, Shiloh and Truman, of Centerville. He is also survived by his maternal grandma, Carolyn Wimer; his uncle, aunt and cousins, Todd, Terese, Molly and Mason Wimer; and his paternal grandma, Linda Sheets, all of Kettering.
A small family memorial will be held and a gathering of friends will be communicated via social media, once planned.
The world is a lesser place without your light. You'll be missed more than you could ever imagine, kiddo.