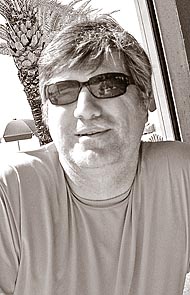 Bernd Dehne passed away on Jan. 19, 2022, in Columbus, Ohio. He was 59.
Bernd was born on Jan. 19, 1963, in Wuppertal, Germany, son of Wilfried and Helga (Lisiak) Dehne. Along with his parents, Bernd is survived by his loving wife, Michelle (Collins) Dehne; their two fur babies, Bo-Bo and Clamity; mother-in-law, Pam Collins; cousin, John (Mary) Sufie; numerous other cousins in Australia and Germany; and aunt, Gertrude Lesniac. He was preceded in death by his three aunts, Maria, Sofie and Christine.
In his free time, Bernd liked to bike, write, bake and take the dogs on walks. Bernd was devoted to his job, serving as a project engineer in robotics.
Arrangements are in the care of Jackson Lytle and Lewis Funeral Home in Yellow Springs. Online condolences may be expressed to the family by visiting http://www.jacksonlytle.com.