James Franklin "Jeff" Inslee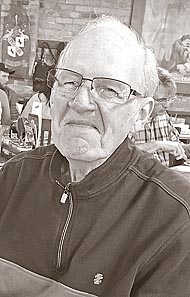 James Franklin "Jeff" Inslee passed away peacefully on Jan. 21, 2022, at Soin Medical Center.
Born July 6, 1941, in Cohasset, Mass., Jeff was the oldest of three brothers. As a child, he enjoyed playing baseball and earned the Eagle Scout rank in the Boy Scouts of America, where his appreciation for teamwork, leadership and service began. In 1959, he graduated from Saint Jean-Baptist French Catholic School in Lynn, Mass., and received his Bachelor of Arts degree from Saint Francis College in Biddeford, Maine. He was awarded a full fellowship to Antioch Putney Graduate School of Education and received his Master of Arts degree in teaching in 1966.
Jeff taught seventh grade math, history and English at the Ohio Soldiers and Sailors Home in Xenia from 1967 to 1969. During this time, he met his future wife, Josephine Sanko, an adult education teacher. They married at Saint Paul Catholic Church in 1974 and decided to make Yellow Springs their permanent home. He later left education and pursued sales and management with Donnellon McCarthy Inc. in Dayton.
Jeff and Josie have two children: Aimee, born in 1975, and Brian, born in 1979. Jeff was an active parishioner at Saint Paul Catholic Church. In 1976, he befriended fellow parishioners Mike and Fran DeWine. It was during Mike's first run for political office that Jeff and Josie started campaign work and a friendship that continues today. Jeff served as district representative for Congressman DeWine from 1985 to 1991. From 1991 to 2017, he was employed by The Ohio Lottery Commission and completed his career as a major accounts executive.
Nothing mattered more to Jeff than his family. He was a devoted husband, father and grandfather, with a booming voice and a hearty laugh. He always offered encouragement when you needed it, and had an easy smile. He just had a way of making you feel good. You may have met him during the '80s when he coached Saturday youth soccer for his son's team; at The Tastee Freeze — now Corner Cone — when Josie owned it from 1986 to 1995; playing the role of Santa at the annual YS Senior Center's Christmas party; or announcing YSHS football games. He loved vacations in Maine, good food, his beloved Boston Red Sox and every Boston team. He never lost touch with his New England roots. He had a kind word for anyone. He adored his grandchild, Fiona, and really enjoyed being on the field with her during the past two seasons of Perry League T-Ball.
Jeff was preceded in death by his parents, Eileen O'Flahavan Inslee and Randolph Perrin Inslee; and his brother, Lawrence Inslee.
He is survived by his wife of 47 years, Josephine Inslee; son, Brian Inslee; daughter, Aimee Garcia; son-in-law, Angelo Garcia; granddaughter, Fiona Garcia; brother, John Inslee; sister-in-law, Doris Inslee; sister-in-law, Catherine Lewandoski; nephews, Gage Inslee, Shea Inslee and Andrew Lewandoski; and niece, Josie Delaney.
The family will receive friends on Thursday, Jan. 27, at Jackson Lytle & Lewis Funeral Home, Yellow Springs, 5–7 p.m., and again on Friday, Jan. 28, at the funeral home, 10–10:45 a.m., with a Mass of Christian Burial beginning at 11 a.m. at Saint Paul Catholic Church. Interment will follow at Saint Paul Catholic Cemetery.
Social distancing protocol will be observed, and face masks will be required. In Jeff's memory, please consider a donation to Hospice of Dayton. Expressions of sympathy may be left for the family by visiting http://www.jacksonlytle.com.