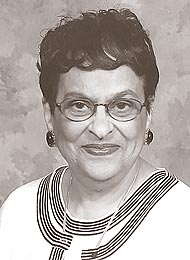 Marcia Lou Mason, of Xenia, passed away Thursday, Dec. 30, 2021, in Upper Marlboro, Md., where she had moved to be closer to her daughter's family. She was 87.
She was born March 7, 1934, in Marietta, Ohio, the daughter of Wardy and Ethel (Taylor) Curtis.
In addition to her parents, Mrs. Mason was preceded in death by her husband, Harry M. Mason; two sisters; and a brother.
She is survived by her daughters, Victoria (Jerry) Brooks and Colette Cox; and a grandchild, Andre Lang; as well as her niece, Jennifer Borden, and family.
Mrs. Mason was an acquisition manager for the government prior to her retirement.
In lieu of flowers, contributions may be made to the Alzheimer's Association at act.alz.org/goto/marciamason.
A homegoing service will be held Monday, Jan. 17, beginning at 11 a.m., at United AME Church in Xenia; friends may call immediately prior to the service, beginning at 10 a.m. Burial will follow in Glen Forest Cemetery in Yellow Springs. Services in care of McColaugh Funeral Home in Xenia.