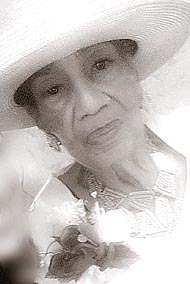 Ruddnette Jefferson, one of the last surviving African American women of her generation born and raised in Yellow Springs, passed away on Feb. 14, 2022.
Ruddnette was a lifelong resident of Yellow Springs, where she raised her five children with her husband, Thurlow Jefferson Sr., who preceded her in death.
Ruddnette was also preceded in death by her daughter, Martena Burnside Brice, and grandson, Robert Jones.
Ruddnette's early adulthood was shaken by the loss of her mother, Lyda Dunbar Dixon, and the loss of her only sister, Marilyn Dabney. Nevertheless, she persevered and went on to help raise her nephew, Steve Ligon, along with her own young children.
Whatever the situation, failure was not an option for Ruddnette. Her determination, work ethic and faith in God ruled her life.
Ruddnette attended Central State University. Her professional career began with Hoenig's Fashions and included the Yellow Springs Children's Center, Wilberforce University, Wright-Patt Credit Union and later working for boutique owners.
Ruddnette was a member of First Baptist Church, where she served as a deaconess, usher and table captain at the annual Calendar Tea. Ruddnette also participated with the Retirement Set Club, serving as the membership secretary. She also served the Yellow Springs community by working at the polls during elections.
Ruddnette had an energetic personality and a sense of fashion that was admired by family, friends and church members — all eyes were on her stiletto heels and fashionable hats. She enjoyed attending local fashion shows with friends and shopping trips to Toronto, New York and Detroit with her family.
She desired to be the fashion plate of Yellow Springs. In addition, Ruddnette was a fabulous cook, known especially for her cakes desired by those in Yellow Springs and beyond, including her children's friends, who would stop by for a slice and enjoy her other offerings.
Ruddnette is survived by her daughters, Tracy Jefferson and Kim Mabra Bragg (Michael); her sons, Thurlow Jefferson, Jr. and Mark Mabra; her grandchildren, Ciarra Bragg-Jones (Nicholas), Mitchell Bragg, Derrick Jones, Curtis Burnside, Jillian Mabra and Derek Mabra; her great-grandchildren Jonathan Jones, Serenity Jones, Noah Jones, Braden Lakins, Riley Lakins, Clarissa Owens, Courtney Ownes, Penelope Bragg, Jayce and Julien Burnside; great-great-granddaughter, Lila Jones; and nephews, Steve Ligon and Preston Dabney.
A service for Ruddnette Jefferson was held Friday, Feb. 18, at First Baptist Church in Yellow Springs, with the Rev. Dr. William Randolph officiating. Interment followed at Glen Forest Cemetery in Yellow Springs.
Arrangements entrusted to Jackson Lytle & Lewis Life Celebration Center.