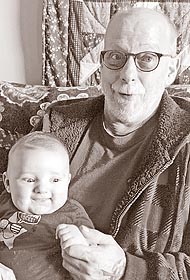 Bradd Bateman, of Xenia, died April 3, 2022, after a long battle with cancer, which he handled with grace and perseverance. He was 56.
A graveside service was held at Glen Forest Cemetery for his green burial. He always wanted to be buried in Yellow Springs, the place he worked for most of his life.
He is survived by his loving wife, Lisa (Aguiluz); son, Brandon; daughter, Brittany Jo (Lucas) Hawkins; and six grandchildren; as well as his good friend, Chris Glaser. He was a local builder and contractor, working with Glaser Construction for 23 years. Over the years, he developed many carpentry skills, building houses from start to finish. Everyone who hired Bradd became his friend.
Chris Glaser said of Bradd: "In 45 years of construction work, Bradd was one of the hardest workers I've ever had the pleasure of working with."
He was a creative problem solver, a fierce friend and a devoted husband, father and grandfather.
He will be missed.
Memorial contributions may be made to Ohio's Hospice or Cancer Research in Bradd's honor.