Antioch alumni return to campus for 2022 Reunion
For the first time in two years, Antioch College alumni have returned to campus en masse to celebrate the college's annual reunion this weekend.
Held virtually in 2020 and 2021 due to the COVID-19 pandemic, this year's in-person reunion will feature a smorgasbord of programming for returning alumni between Thursday, July 14 and Sunday, July 17.
Nearly 200 alumni have registered for the reunion, according to Vice President of Advancement Vanessa Cubano.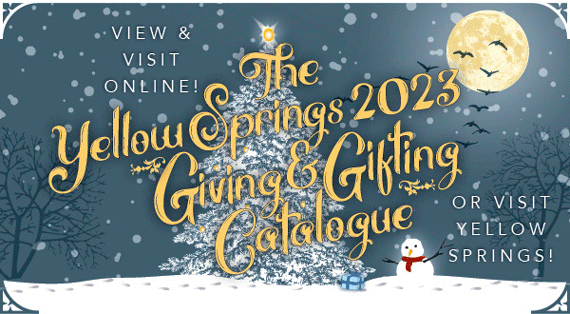 "It's really magical to see the genuine commitment the alumni have to Antioch and what it represents to them, no matter what year they graduated in," Cubano said in an interview this week.
As Catherine Jordan, class of '72, told the News, that magic is tripled this year. She said with the classes of '70 and '71 having missed their in-person 50ths, she and her fellow classmates see this year's event as a joint reunion.
"This is my second home," Jordan said. "It's all about bonding, seeing our old buddies and reminiscing. But it's also about reconnecting with the college to see what's going on here — combining our energies to help Antioch continue to thrive."
Jordan, who traveled back to Yellow Springs from Minneapolis, has spent the last six months planning and coordinating the reunion as the current chair of the Alumni Reunion Committee.
"It feels fabulous that all the thinking and planning is finally coming together," she said.
One of the components of the reunion weekend Jordan relishes the most is ongoing volunteer work projects throughout the week. Since Monday this week, alumni have carried out various maintenance and beautification projects around the college campus. From gardening and landscaping to painting and cleaning, teams of Antioch alumni have since spent the week sprucing up the college grounds in anticipation for the weekend's events.
"The volunteer work project is kind of the heartbeat of the reunion," Jordan said. "To come back, put our shoulder to the wheel to beautify and fix things around campus is unusual among higher education institutions."
"Especially with such good humor," Alec Duncan, class of '72, added.
The alumni have a busy weekend ahead of them.
While much of Thursday will be spent continuing to volunteer around campus and receiving alumni arrivals, the day culminates in a golden anniversary dinner and faculty tribute for the classes of '70, '71 and '72.
Friday brings a smattering of events such as a college history tour led by Antioch Archivist Scott Sanders, a folk dance, a life-after-Antioch panel discussion, a photographic tour of Glen Helen led by emeritus geology professor Peter Townsend, a late-night cabaret and more.
Saturday is even busier. Throughout the day, alumni will be interviewed by 91.3 WYSO, telling their stories of the Antioch of yesteryear. At various times there will be pop-up dances on the main lawn; a procession and funeral for the former Antioch student union, which is slated for demolition; two panel discussions centered around education and zoning challenges; and a movie screening.
The day closes with a traditional Antioch Div Dance, DJed by "Clean Gene" Lohman and Shane Creepingbear.
On Sunday, the alumni say farewell.
This is just a sample of the varied events and activities planned throughout the weekend; for a full itinerary and links to register for certain events, visit the 2022 Reunion page at http://www.antiochcollege.edu/alumni-friends/reunion-2022.
According to Cubano, the college and the coordinating bodies for the reunion opted to keep much of the programming exclusive to Antioch alumni.
One event, however, that is open to the public for virtual attendance is the panel discussion titled "Building a Livable Community: New Urbanism, a YSO Perspective," to be held Saturday, July 16, 2:45 p.m.–3:45 p.m. See the sidebar for connection information.
Panel discussion open to the public:
"Building a Livable Community: New Urbanism, a YSO Perspective"
Saturday, July 16, 2:45–3:45 p.m.
113 McGregor Hall, Antioch campus

• Hosted by David Scott ('67).
• Moderated by 91.3 WYSO Executive Director Luke Dennis.
• Featuring YS Village Manager Josué Salmerón, local architect Max Crome and Vice President of Finance Bob McKee ('88).
This panel discussion aims to shine a light on the development and zoning challenges that Yellow Springs faces from a "New Urbanist" perspective.
To attend the discussion ­virtually, go to http://www.live.remo.co/e/building-a-livable-community
Sitting on the panel will be Village Manager Josué Salmerón; local architect Max Crome; Antioch College Vice President of Finance Bob McKee, class of '88; and village resident David Scott, class of '67. The discussion will be moderated by 91.3 WYSO Executive Director Luke Dennis.
Having organized the panel, Scott hopes it will spur greater scrutiny of Yellow Springs' zoning code and the attendant housing concerns among alumni and village residents alike.
"This particular year, what made it more necessary than usual to have this discussion are the recent developments that have been proposed in Yellow Springs," Scott said in an interview this week. "There are better ways to organize towns: good planning and zoning can encourage synergy between a neighborhood and a downtown."
For Scott, the mid-century planning and development movement of "New Urbanism" may provide the village with a path forward. As Scott explained, this movement is anathema to the post-war suburban sprawl; it seeks to undo the autocentric designs of neighborhoods that lead to divisions among neighbors and their downtown.
"The New Urbanists say [the U.S.] needs a different way of designing our housing and neighborhoods in a way that doesn't emphasize cars, but instead emphasizes neighborliness, walkways, bikeways, alleys, porches and closer walking distances to amenities," Scott said. "That's what we need in Yellow Springs."
Although Scott's focus has been centered around coordinating the panel discussion, he said he's looking forward to the reunion as a whole. Beyond reconnecting with old classmates, Scott believes this reunion will serve to move the college's mission forward.
"The goals of a reunion are to support, affirm and celebrate Antioch's necessity in the world," he said. "It's so absolutely necessary to have schools like Antioch to produce students who are ready to take on the challenges that are flooding us now."