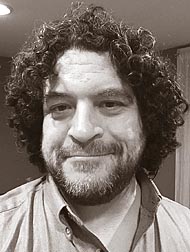 Mark Bateman passed away unexpectedly on Friday, Aug. 19. He was 53 years old.
He will be greatly missed for his smile, great heart, infectious humor and more. Mark leaves behind his three children, Sierra, Ari and Miranda; his brother, Jaime; and countless friends whose lives he enriched.
A memorial service will be held at Rockford Chapel Friday, Sept. 9, 6–8 p.m. In honor of Mark's love of cooking, those attending are asked to consider bringing a dish to share. Those who would like to consider a memorial gift are asked by Mark's family to donate to WYSO (www.wyso.org) or another charity Mark would love.