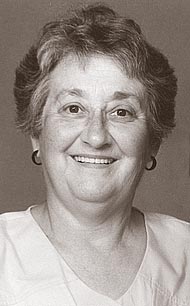 On Nov. 16, 2022, Roberta B. Semler passed peacefully with her family at her side. She was born on Aug. 18, 1931, in Yellow Springs, Ohio, to the late Robert and Anna Brannum. Roberta was a graduate of Bryan High School, Yellow Springs. She worked in the Yellow Springs School District from 1969 to her retirement in 1994, and continued working as a volunteer in the Yellow Springs Schools.
For many years she was a member of the Rebekah Lodge, serving in many positions. She was also involved in the Homemakers' Extension Club. Roberta was dedicated to her role as a farmer's wife, helping run their Holstein dairy farm in Yellow Springs. She was also a lifelong active member of her church. Roberta was well known for her Christmas rolls that she shared with family, friends and neighbors, a skill that she passed on to her children and grandchildren.
Roberta is survived by her husband of 71 years, Kingsley Semler; children, Karen (Gary) Blevins, Kurt (Tracy) Semler, Jim (Roberta) Semler and Bob (Sheryl) Semler; grandchildren, Lindsay (Brian) Esten, Derek (Courtney) Semler, Heather (Cory) Wilt, Kristen Semler, Alec Semler, Brandon (Jackie) Semler, Logan Semler, Anna Semler and fiance Alex Bryant, Annie Semler and Emily Semler; great-grandchildren, Abigail Wilt, Lucas and Quinn Esten and Josie and Gracie Semler; as well as many close friends and extended family.
Roberta's family extends their sincere appreciation to Shawnee Estates and Hospice of Dayton for their compassionate care for Roberta. Contributions can be made in Roberta's name, to Hospice of Dayton. A gathering in Roberta's honor will be held in the near future. Condolences may be expressed to the family by visiting jacksonlytle.com.