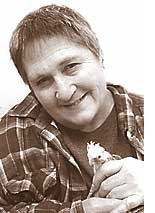 Norma Jane Musick, lifelong friend to Yellow Springs, died Monday, April 4, just short of her 59th birthday.
Norma loved all animals — her dogs, her cockatiel, her goats, Bonnie the calf, Libby the raccoon and Miss Kitty. Norma had an accident Oct. 3, 2009, and was cared for by her lifelong friend, Julie Sine.
Norma was preceded in death by her parents, Grace and Noah, and her brother Larry. She is survived by her sister, Yvonne.