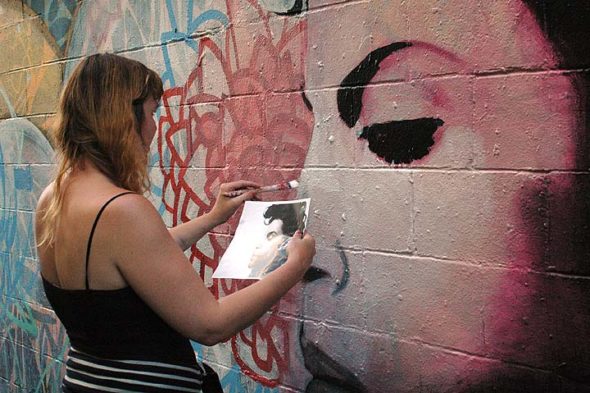 Downtown murals: overhead and out back
Two murals went up last week above and behind the shops of Dark Star Books, Pangaea and Current Cuisine. TOP PHOTOS: Villager Mandy Knaul, aka Mandy Sue, created a 51-foot mural featuring botanicals and Glen Helen scenes in response to a Facebook "shout out" from Dark Star seeking proposals from local artists to adorn the facade above the trio of Xenia Avenue shops. Last Thursday, Mandy Sue installed the mural with help from her neighbor, John Geri; her wife, Theresa Nolan; and her niece, Ashley Knaul.
The mural is now a permanent part of the downtown artscape.
BOTTOM PHOTOS: Muralists Sarah Dickens and Pierre Nagley conversed while she fleshed out her rendering of legendary pop/funk/rock musician Prince. Nagley continued work on the southern part of the wall, completing an abstract study in yellows and oranges with white swirls. The two are mapping out a series of small movies that use dark humor to explore the challenges of living as an artist.