The documentary film "More Than a Month" explores the purpose, effectiveness and value of designating February as Black History Month.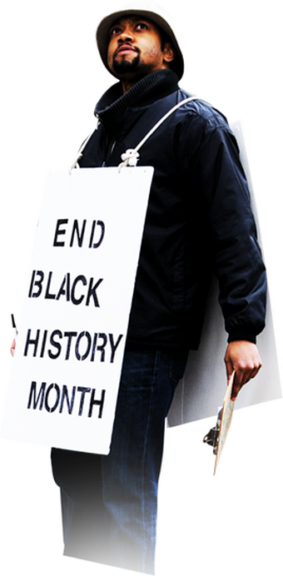 Documentary explores concept of Black History Month
The 2018 Elaine Comegys Film Festival, presented by The 365 Project, will feature a screening of the documentary "More Than a Month." The film, which explores the purpose, effectiveness and value of Black History Month, will be shown at 1 p.m. Saturday, Feb. 17, at the Little Art Theater.
Released in 2012, the documentary features Shukree Hassan Tilgham, a young African-American filmmaker, as he sets out on a cross-country campaign to end Black History Month. "Through this thoughtful and humorous journey, he explores what the treatment of history tells us about race and equality in a 'post-racial' America," according to the movie's press materials.
The annual local film festival, marking its 10th outing this year, was founded after the 2007 death of longtime Yellow Springs resident Elaine Comegys, who was an advocate for fairness and equality for minorities. A native of Charleston, W.Va., she came to Yellow Springs in the mid-1970s as a faculty member in the Co-op Department at Antioch College, later becoming Dean of Students.
The 365 Project, which hosts the annual film festival, is a Yellow Springs/Miami Township-based nonprofit organizations that seeks to facilitate discussions regarding racial diversity through various community-engagement activities and initiatives.