'Worrisome' COVID-19 rise in Greene County and SW Ohio
Greene County is one of five counties in southwest Ohio that have seen COVID-19 cases rise in recent weeks, Gov. Mike DeWine announced during his June 18 press briefing.
According to state data, cases in Greene County increased between June 2 and 14, a time period in which cases overall in Ohio have been trending downward. The other SW Ohio counties that saw case increases during the first half of June are Clark, Montgomery, Warren and Hamilton counties.
DeWine noted that "the trendlines are worrisome" in these five counties. He also identified specific zip codes that are driving case increases in each of the counties. In Greene County, the zip codes are 45324 and 45385, which correspond to Fairborn and Xenia.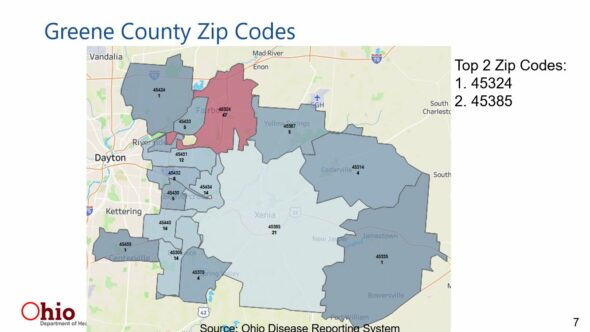 In response to the recent trends, DeWine said Ohio is moving more National Guard members into SW Ohio to assist with setting up testing locations in the area. Several pop-up testing sites have been announced in our region, with more to be announced soon.
On Wednesday, June 24, there will be a pop-up testing site at Greene County Health Center at 360 Wilson Dr. in Xenia. Hours are 9 a.m. to 4 p.m. Anyone can get tested, including those without symptoms and those without underlying medical conditions. There is no cost to be tested at a pop-up testing site.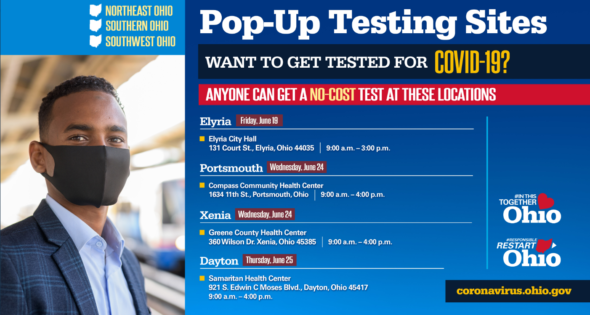 DeWine encouraged people living within the identified zip codes to get tested as one measure to limit further spread of the virus.
It is not entirely clear what is driving case increases in SW Ohio, DeWine said in response to a question from a reporter. He mentioned a visiting minister going to several different churches in the area, as well as workplace hot spots such as the Dole factory in Springfield, where at least 200 workers have tested positive for the virus. Community spread is also a factor, in which people don't know how they came into contact with the virus.
"The answers are all over the place," DeWine said.
At a June 11 briefing, DeWine identified the Dayton region as having the highest R0 factor in Ohio, meaning the rate of spread was greatest in our area. However, in a subsequent briefing on June 16, the reported R0 factor for the Dayton region had decreased, and the area was no longer leading the state in rate of spread.
Despite the recent case increases, Greene County case counts are low relative to the four other counties identified, and near the middle of Ohio counties overall based on case counts. As of June 18, Greene County is reporting 156 confirmed and probable COVID-19 cases, six deaths and 35 hospitalizations. By contrast, Clark County is reporting 568 cases, 8 deaths and 53 hospitalizations.
DeWine called the rise of COVID-19 cases in SW Ohio a "stark reminder that the virus is very much still with us." However, in response to a question from a reporter, he said he was unlikely to scale back reopening in SW Ohio based on the trends. Instead, Ohio will be giving people information about the virus' spread and expanding testing in the area, DeWine said.