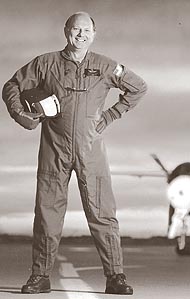 Robert "Bob" N. Hennigan passed away Thursday, Dec. 9, 2021 at Hospice of Dayton. He was 74.
Bob moved to Yellow Springs with his wife, Barbara Hennigan, who was residing at Friends Care Center. When the COVID shutdown precluded visits to her, it was decided that Barb and Bob would live with her sister and husband, Nancy and Malcolm Kelley, here in town. This was made possible by the superb aid of several skilled and loving individuals: Jennifer Boyer, RN and Carmen Lee in Yellow Springs and Tahliquah McQueen in Xenia.
Bob funded his love of flying by spending his college savings to buy an airplane. He became a flight instructor and completed his college education teaching flying while in college. He became an air attack pilot for the California Department of Forestry, flew 747s worldwide for Atlas Air and fire-bombed for BeeLine Bombers.
He ran a sizable family farm in Northern California and served on the board of directors for California Farm Bureau. He also helped to found and was a chair for Nord Country School. He was a scuba diving instructor. He supported his wife as she was highly involved in California State water issues on behalf of the State League of Women's Voters. His storytelling skills were captivating, and he always had an interesting tale to tell.
He will be missed by Barbara, two sisters, four children and their spouses, six grandchildren and many, many friends.