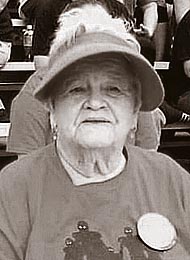 July 10, 1930–Jan. 24, 2023
Rose Marie Williams, age 92, passed away on Tuesday, Jan. 24, 2023, in San Antonio, Texas. She was born July 10, 1930, to Rosa Sorrell and Obie Thomas in Salt Lick, Kentucky.
Rose loved spending time with her family and friends. She enjoyed her "road trips/adventures" with her daughter, Nancy Lewis, and her close friend, Noreen Foreman.
When Nancy became ill, it was Noreen, and a dear cousin, Becky Hamilton, who stepped in to assist the family and make sure Rose had all she needed. Keeping her nails always manicured, and beauty salon visits were important to her. These were among the many, many ways they provided additional support for the family.
Rose's greatest joys were being with her grandson, Tony Lewis; granddaughter-in-law, Beverly Wilson; and of course, her three great-grandsons, Tony Jr., Jalen and Trennan Lewis. Rose adored those boys. When Jalen and Trennan played basketball and football for Wayne High School, Rose would often be seated in the bleachers cheering the Wayne Warriors on. As often as she could, she would attend out-of-city tournaments. The oldest of her great-grandsons, Tony Jr., is the artist of the family. She would proudly show the latest drawings and paintings he made for her. Bev made the best tacos, and Rose would always be happy when Bev would bring her "crispy tacos," her favorite, or any other home-cooked meal that Bev had made extra for her.
Rose was preceded in death by her parents; husbands, Leonard Williams and Hammon Dameron; and daughters, Donna Williams and Nancy Lewis. Rose is survived by her daughter, Gina Baum and husband George; grandson, Tony Lewis and wife Beverly Wilson; and great grandsons, Tony Jr., Jalen and Trennan Lewis.
The family wishes to extend their special thanks to Minerva Ortega and Diana Carrizales at St. Michael's Home Care in San Antonio, Texas, as well as to Sally, Laura and rest of staff from Trinity Hospice for the excellent care they provided for Rose in her final days.
In lieu of flowers, memorial contributions may be made to a charity of your choosing,
You are invited to sign the online guestbook at porterloring.com. Arrangements with Porter Loring Mortuary North, 2102 North Loop, 1604 East San Antonio, Texas 78232.