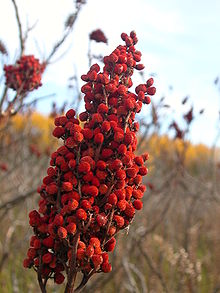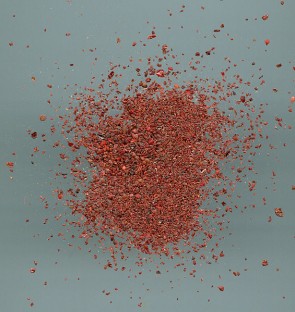 BLOG — Super sumac, soulful shiso
Shame on me for being both beyond the holiday and out of season, but this fall I've been totally tethered to two deep purple herbs that look and taste almost identical but come from two different countries that have as much in common with each other as Japan and Iran. Okay those are the countries I'm talking about, and their herbs, Japanese shiso and Persian sumac, for reasons I can't understand, are like twilight and dusk…fraternal twins separated at birth…so opposite they attract… and they are both amazingly delicious!
First sumac (not the poison kind!), which according to theworldwidegourmet.com and Wikipedia, is the dried, crushed fruit of the rhus coriaria shrub found in warm, dry climates, such as in the Middle East. Sumac is the deep red flecks that are sprinkled on salads and meats to impart a tart, savory flavor. I first had sumac at the home of local resident Farzaneh Mader, who used it as the essential finish to Persian chelo kabob, a traditional lamb or beef kabob eaten over rice. And it is often included in Lebanese dishes such as fattoush bread salad and Zahtar, the Lebanese herb mix of thyme, oregano, sesame seeds and salt that is good with olive oil and flatbread. It is even used to flavor a cooling summertime beverage, and once you know its spark, you aren't likely to forget it.
Then across the desert, over the Great Wall and beyond the East China Sea is the distinctive shiso herb, perplexingly similar in color, taste and texture to its western double. Shiso is a dark purple leaf of the perilla or "beefsteak" plant, which can be eaten fresh but is also salted, dried, crushed and used as a seasoning for pickled plum (umeboshi), rice and sometimes fish. It can often be found as the main ingredient in shiso furikake (a rice seasoning blend). Shiso adds a tart, robust flavor to bland foods like rice and brightens the flavor of rich foods like salmon.
Clearly no expert but nonetheless opinionated, I think that distilling Persian food to its three most fundamental flavors could include lemon, saffron and parsley. The distillation of Japanese food to its three essential elements would include soy sauce, ginger and dashi fish stock.
In order to maintain a balance of the five tastes — and let's leave out sweet, because we're talking savory here — so actually four tastes, salty, sour, bitter and umami, for the Persian palate, lemon takes care of the sour, parsely the bitter and one could stretch and say that saffron might taste sort of salty. But there is a need for an umami, a taste of richness and body, which is where I think sumac comes in. The same works for the Japanese palate in which the soy sauce takes care of the umami, the ginger the bitter, and the dashi the salty, and then shiso comes through to pinch hit for sour.
My elementary assessment is that both sumac and shiso are somewhat essential to the basic flavor spectrum. They are both spectacular on plain hot rice (white or brown), eggs, and on bread, mixed with olive oil and either dipped or spread on a baked. And if you want to take it a step further, try these recipes.
Shiso can be found at some Asian food stores, such as Don Yang in Fairborn, and though it comes as a fresh green or purple leaf and can be used that way too, I really like it dried and flaked.
Sumac can be found at Middle Eastern and some Indian food stores, such as Halal Meats off of Wayne Avenue near where it intersects Keowee in downtown Dayton.
Fattoush
Ingredients:
Persian or Lebanese flatbread, like pita, toasted
3 tomatoes
2 cucumbers
1­–2 bunches scallions
½ a purple onion
1 bell pepper
2 C lettuce
1 C fresh mint
1 C fresh parsley
1 C fresh dill, cilantro, or basil
For the dressing:
1/2 cup lemon juice,
2 cloves garlic (mashed with a pinch of salt),
1/2 teaspoon dried mint,
2 T vinegar,
1/2 cup olive oil, 1 t salt, 2 T ground sumac
Assembly:
Break bread into small pieces. Chop veggies for salad, and finely chop fresh herbs. Mix all with dressing. Serve with additional sumac.
Shiso onigiri (rice balls)
2 C short grain sushi rice
½ C barley
2 T shiso furikake
Cook rice in ample water until sticky. Cool. Wet hands and sprinkle them with ½ t furikake, then form rice mix into palm sized ovals with damp hands. Enjoy with sautéed salmon.