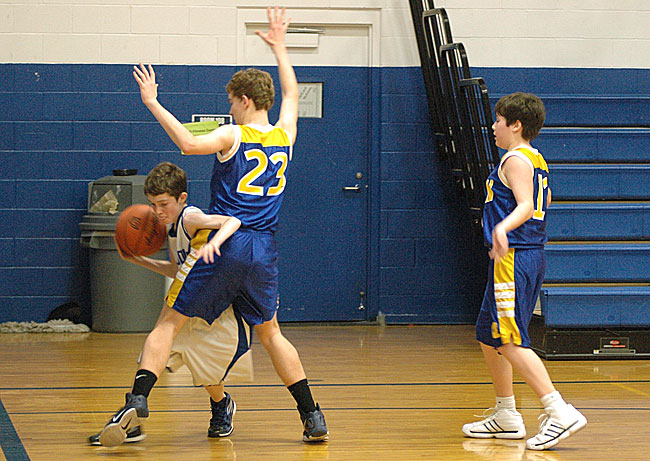 SPORTS SUNDAY — McKinney 7th graders lose after two big wins
Two weeks ago, the McKinney seventh-grade boys basketball team put together a stunning comeback win at Emmanuel Christian, and last week they pulled together as a team to defeat conference foe Middletown Christian. This week, despite spirited play, the boys fell 44-10 to visiting Xenia Christian.
Last week the seventh graders took down Middletown Christian, 36–19, in a great example of team play. Hayden Orme controlled the tempo of the game by calmly setting up the offense while knocking down open jumpers when left alone. He finished with 10 points. Center Joe Plumar dominated the paint, scoring the Bulldogs' first nine points of the game. Akeem Truss put pressure on the Middletown Christian guards by penetrating the lane and finishing at the rim. He added 15 points for the night.
The Bulldogs were strong off the bench as well. Guards C.J Johnson and Landon Rhoads put pressure on defense while being aggressive on offensive. Landon Rhoads knocked down an open jumper to keep the Bulldogs momentum going into the fourth quarter. And backup center Jordan White collected six rebounds off the bench.
On Jan. 21, down by 15 points to Emmanuel Christian with four minutes to go in the fourth quarter, the McKinney seventh-grade boys basketball team didn't give up. They charged back and went up by three with one minute remaining on a corner three-point shot from Truss. They won 44–41.
"I'm really proud of our guys today," said seventh-grade Coach Brad Benning. "I feel we get better with each game we play."
Plumar led the comeback and ended with 21 points and a commanding 23 rebounds. Orme had 10 points and three steals and Truss ended with six points and five rebounds.
Meanwhile, the eighth-grade boys team defeated Xenia Christian, 39-25, and Miami Valley, 40–29. Against Xenia Christian, Rodman Allen had 18 points, including four three pointers. Butler had six points, JT Clark had nine, Ethan Dewine had four and Taran Pergram had two. Scoring at Miami Valley were Allen (8), Butler (12), Clark (8), Okia Oluka (4), Devon Perry (4), Isaiah Taylor (2) and Dewine (2).